The Kapiolani Residence
A Budget Friendly Option In The Heart Of Honolulu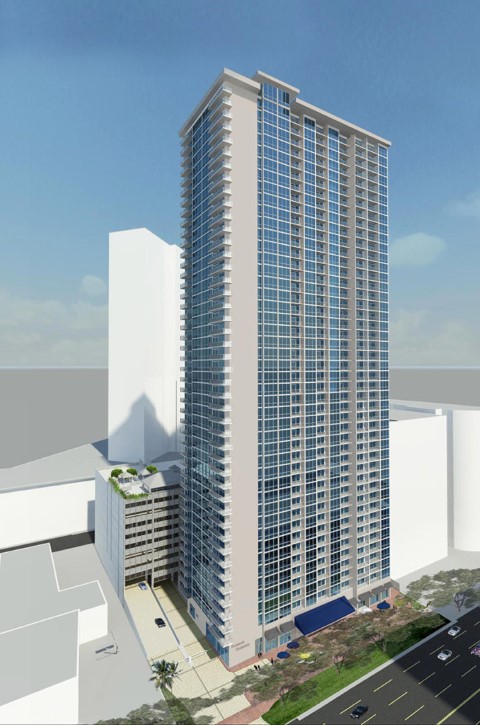 Nestled in the coveted Ala Moana area of Honolulu, you'll find a highly desirable new condo, The Kapiolani Residence.
Finished in 2018 by The SamKoo Pacific Corporation, this condo offers a combination of affordable scale and market rate units in a clean and modern 45 story structure constructed of concrete and glass.
You'll find Kapiolani just mountainside of the Ala Moana Hotel, a prime location at 1631 Kapiolani Boulevard in Honolulu.
With some light amenities, and a lower than normal price tag, this centrally located Honolulu building is a strong contender for living in...or investing in.
If you'd like to experience the best of island life in a high value, but don't want to break your wallet to get it, the Kapiolani Residence truly is the best of both worlds.
Kapiolani Residence Floor Plans
The units in Kapiolani range from quaint 400 square foot studios to comfortable 1,230 square foot 3 bedroom abodes. There are 485 residences in all, with a mixture of affordable and market priced units.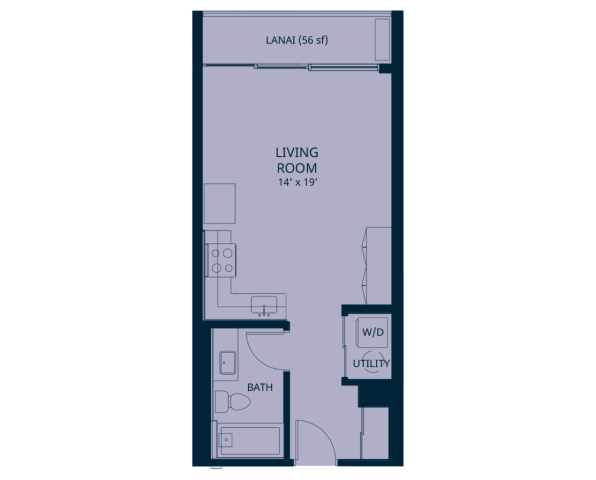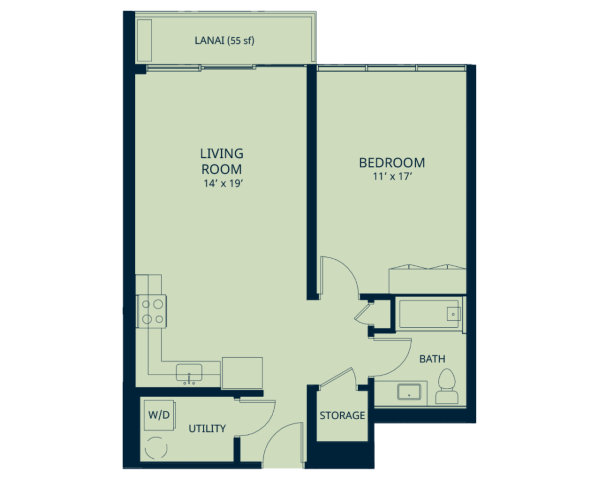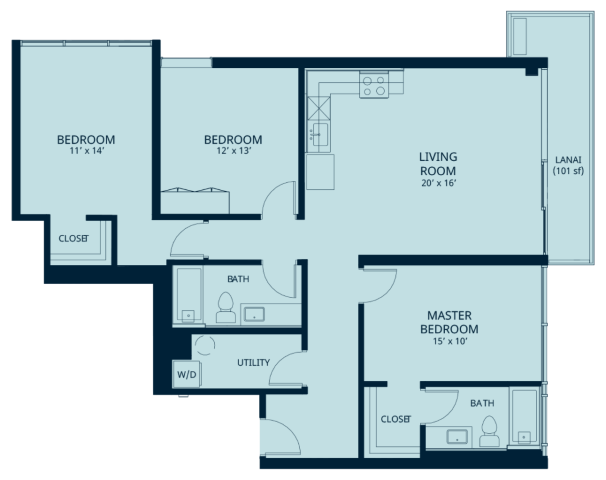 Each condo features its own lanai, perfect for enjoying the coastal sunsets. Many of Kapiolani's units even have ocean or mountain views, and the 3 bedroom condos have wrap around lanais.
Inside the condos you'll find efficient, split air conditioning systems, washer and dryer units, and Samsung appliances. All finishes are clean, modern, and good quality.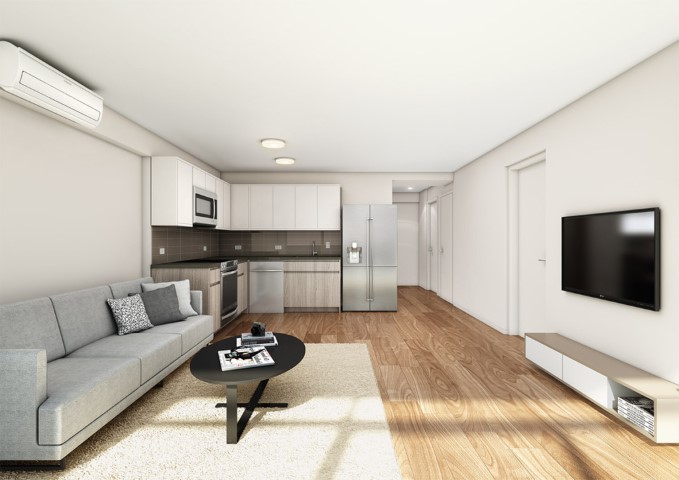 The living rooms and bedrooms are all carpeted and the bedrooms feature spacious walk in closets. The kitchen, bathroom and entry way are all finished with a higher end vinyl tile. Upgrades and customization options are available upon buyer's request.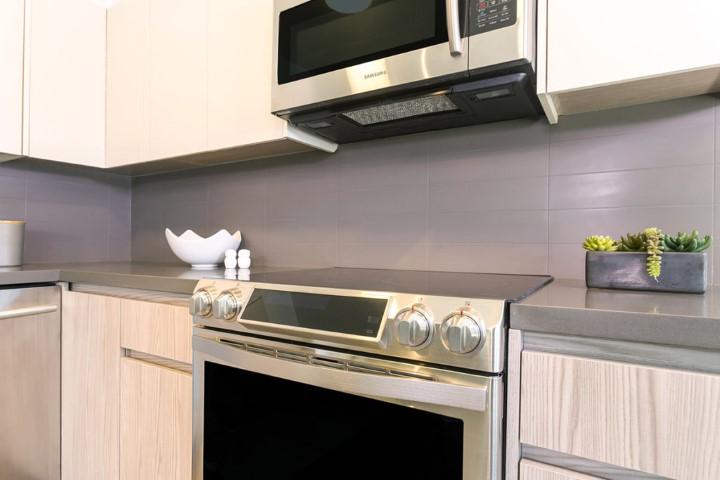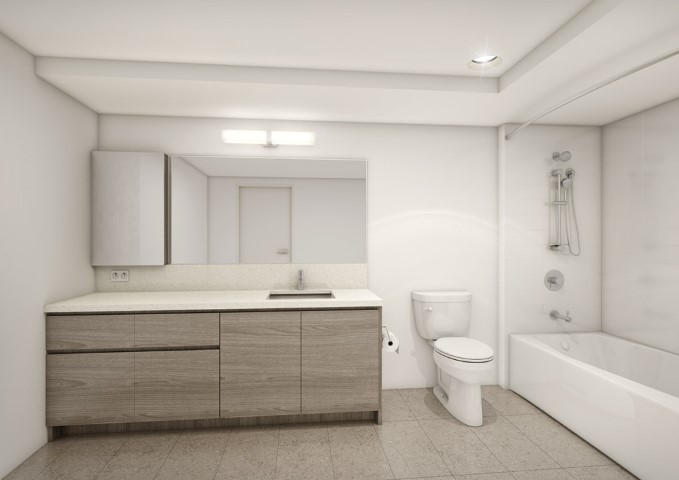 Kapiolani Residence Location
Convenient for bikers, walkers, and close to public transit, the location of Kapiolani really can't be beat. Located at 1631 Kapiolani Blvd., Honolulu, HI 96814, you can take advantage of an easy commute to work, grocery stores within walking distance, outdoor weekend recreation, or some fun night life experiences. And, it's all available just outside of your doorstep.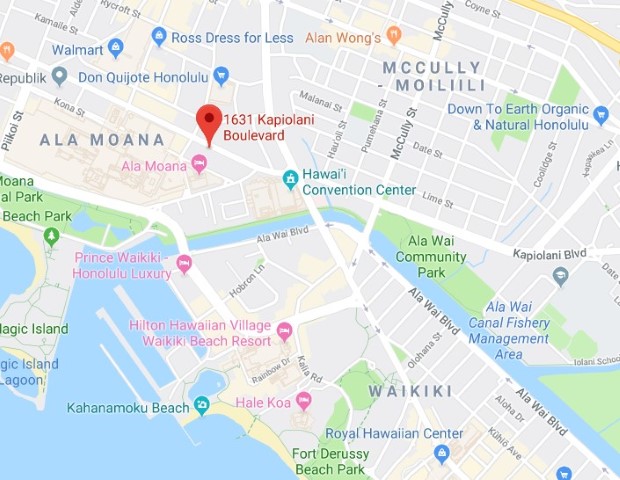 Your condo doesn't have a fitness center, but that's no problem when Super Sport Gym is right across the street! Open 24 hours a day, this gym has a host of fantastic studio classes as well as spacious, updated amenities.
The new 2-story Whole Foods market in Ward Village is only a mile away from the Kapiolani Residence and is worth checking out. The new flagship store boasts an impressive 72,000 square feet of retail space. 60 local suppliers work closely with the Whole Foods staff to regularly bring in fresh local produce and island flowers.
The famous Ala Moana Shopping Center is just minutes from your complex. Enjoy fine dining and shopping options amongst the island greenery and pretty koi ponds. As the world's largest outdoor mall, Ala Moana has hundreds of stores, and over 100 restaurants. With so many options, you'll never get bored of spending your weekends at this retail oasis.
We talk a lot about Ala Moana Park around here, but it's for good reason. This beautiful public park between Waikiki and downtown Honolulu is 100 acres with over half a mile of sandy beach front, all easily accessible to Kapiolani residents.
Ala Moana is the perfect location for water sports like surfing or paddle boarding, and is one of the most popular open ocean swimming spots in Hawaii. Grassy, palm lined spaces also make it the perfect frisbee, picnic, or BBQ spot to waste lazy days away at.
And then, of course, there's all 8 sections of Waikiki beach to explore. The entrance to this renowned coastal paradise is a mere ten minutes from the Kapiolani Residence, giving you plenty of white sands and surf to visit.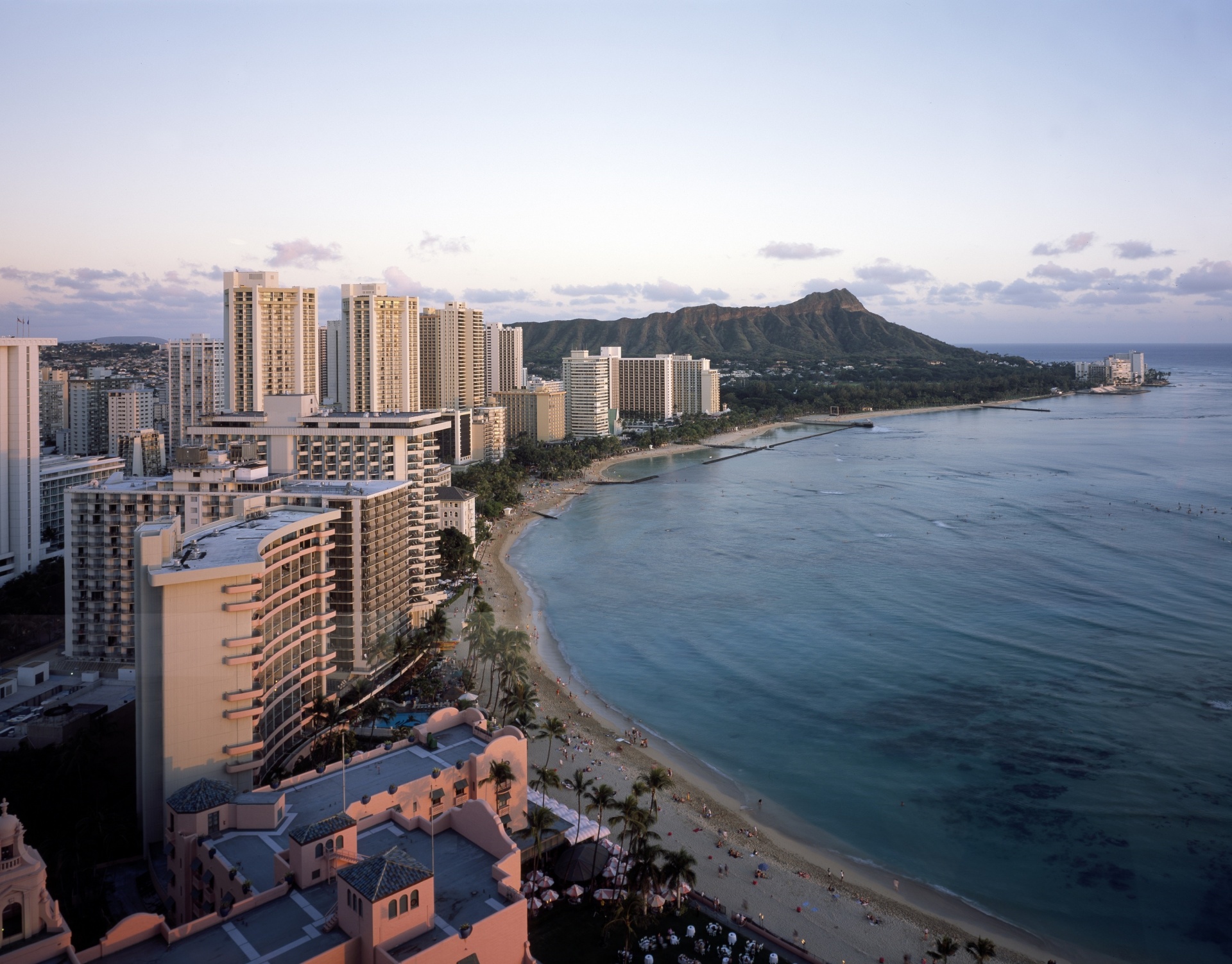 Condo Amenities
While Kapiolani is a no frills building, it does come with some extras that help to conveniently meet residents needs while also keeping them safe and secure.
Here are some of the notable extras that Kapiolani provides:
You can try your hand at some Hawain BBQ under the shade of the cabanas. The condo provides grills and plenty of covering on it's airy resident recreational deck.
Book the indoor party room and kitchenette for your next event or big family gathering.
Never worry about finding a parking space again - spots are assigned in Kapiolani's 9 floor garage. All units come with 1 stall, but 2 bedroom units have the option to purchase an additional stall. 3 bedroom units come with 2 stalls. Electric vehicle stalls are also available!
A covered walking bridge from the garage to your condo provides convenient access when the weather is unruly.
The building entry is also covered, and secure with your FOB key access.
A resident manager is always on site to meet any needs that may arise.
As an added security measure, Kapiolani is protected by Closed-Circuit Television (CCTV)
An impressive marbled lobby entrance, complete with a reception desk, elevator access, and a mailroom are all on the first floor.
Bicycle storage is provided so you can conveniently stash your commuting gear.
Kapiolani Residence Price Range
The Kapiolani Residence condos range from high $200,000 for the smaller studios to high $900,000 for 3 bedroom units.
Whether you are looking for a smart investment property, or a new place to call home, you won't be disappointed with Kapiolani.
The affordable, fee simple ownership options make luxury island living in a prime location a possibility even for the early investor or the most budget conscious home buyer.
Our favorite things about the Kapiolani Residence:
Low maintenance fees and an affordable price tag opens up the option of island life to all kinds of buyers.
The ever growing and ever improving location of beautiful central Honolulu can't be beat. This is an investment that's sure to return to it's buyers in spades!
And of course, Lanai's in every unit make enjoying those Oahu seaside sunsets that much better!
I would love to be your Kapiolani Residence resource! Please feel free to contact me at 808-203-7424 or via email at [email protected].
About John Gephart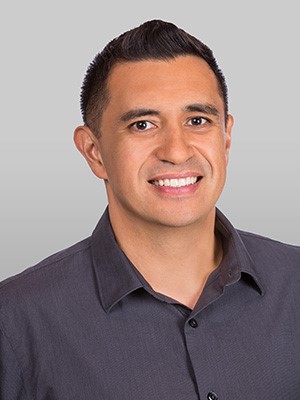 John Gephart specializes in Oahu real estate and new development condos in Kakaako and Ward Village. Call him at 808.203.7424 or email to Joh[email protected] to set up a private Kapiolani Residence showing.
You can read more about John by clicking here.
Click here for our Testimonials!
Here are my previous notes on Kapiolani Residence:
Kapiolani Residence at 1631 Kapiolani Boulevard is First Condo Developed by SamKoo Pacific
UPDATE: January, 2019: I assisted three (3) new buyers in Kapiolani Residence from contract to closing over a 2 1/2 year period and recently helped them get their keys over the last 30 days. When you enter the building you are greeted with floor to ceiling marble tile that is very elegant. The views are amazing and even the lower level units that face the garage, they are far enough away that you are able to see the sun shine through. I am very happy to have represented my buyers and wish them the best in their new homes!
UPDATE: September 2, 2016: As of today, the next phase of Kapiolani Residence sales will be the release of the 192 market units that will go for sale in the near future. The developer is currently waiting for the State of Hawaii to approve the Public Report for the project. Once the Public Report is completed and available, then the market release will begin shortly thereafter. Due to the type of building this is and the developer's agreement with the HHFDC, 100% of the market units will be reserved for "owner occupant" buyers ONLY for the first 30 days from the date of contracting. All investor buyers will have to wait 30 days before they can purchase a market unit in this building, if there are any left at that time.
If the initial interest in the affordable housing release is any indication of what we are to expect in regard to the market release for Kapiolani Residence, then this project should sell out as fast as Ke Kilohana and Keauhou Place. This developer has clearly found the type of project that appeals to the people of Honolulu...not too luxury, but with high quality finishes, in a great location and at a great price!
UPDATE: September 1, 2016: The deadline for the completed HHFDC (Hawaii Housing Finance and Development Corporation) applications for the 292 affordable units at Kapiolani Residence was yesterday, August 31, 2016, at 5:00pm. After the final deadline, there were over 900 applicants that are hoping to get approved by the HHFDC for the public drawing that will be held in the next 4-6 weeks. Even though people turned in the applications, the HHFDC still has to verify the income and eligibility of each application. I already know of some applications that did not get approved which left a couple families out of luck. I wish all my clients that registered me as their agent the best of luck in getting their application approved!
UPDATE: June 10, 2016: Today's Honolulu Star-Advertiser formally announced the affordable housing units at Kapiolani Residence.
Guess what, Honolulu home buyer?? I am happy to share with you that the next "affordable" Honolulu condo project has hit the market, and hopefully by the end of summer, 2016 will break ground. Pictured above is the future site of the 45-story, 485-unit Kapiolani Residence condominium that will be developed by SamKoo Pacific and will be located at 1631 Kapiolani Boulevard, just mauka of the Ala Moana Hotel. The project will consist of 60% (292 units) affordable and 40% (193 units) moderately priced market units. This condominium will be located in the Ala Moana Transit Oriented Development (TOD) district and will be just a 1/4 mile away from the last proposed HART rail stop. In the past few weeks, there have been a barrage of affordable and reserved condo units that have made the Honolulu news. Ke Kilohana by Howard Hughes (SOLD OUT), 803 Waimanu and now Kapiolani Residence will allow first-time homebuyer Hawaii residents an opportunity to own in the Kakaako / Ala Moana neighborhood.
The Kapiolani Residence project will consist of studio, 1-, 2- and 3-bedroom units and will range from $272,000 to $592,000, so there will be a wide range of choices for every buyer. There will also be commercial spaces that will front Kapiolani Blvd. Kapiolani Residence will have 701 parking stalls in a nine-floor parking garage. 617 of those stalls are marked for the residents of the building. Building amenities will include a proposed recreation deck that will take up a portion of the top of the garage and will be connected to the tower via a bridge. There will be cabanas and a BBQ area and a large pavilion for entertaining. Kapiolani Residence by SamKoo Pacific will be a great addition to the Kapiolani corridor and fills the need for affordable and moderately priced urban condominium units in Honolulu. Another affordable tower may be developed in the future at 1391 Kapiolani Boulevard as well and developed by SamKoo Pacific.
This project will be slightly different than previous reserved housing projects such as Ke Kilohana and Keauhou Place. Instead of being governed by the HCDA (Hawaii Community Development Authority), it will be governed by rules developed by the HHFDC (Hawaii Housing Finance and Development Corporation). The income restrictions will be based on the affordable scale, which is 60%-120% of the area median income.
If you have specific questions or would like to schedule a showing at Kapiolani Residence or other new developments in Honolulu, comment below or contact me directly, John Gephart at 808.203.7424 or via email at [email protected].
Kapiolani Residence Listings
October 1, 2023