Sky Ala Moana Condo Tower and Hotel
Sky Ala Moana is an exciting new condo development coming to life in the Ala Moana neighborhood of Honolulu, just off Kapiolani Boulevard in the area directly adjacent to the popular Ward Village in Kakaako. The sales gallery is now open and owner occupant sales will begin soon!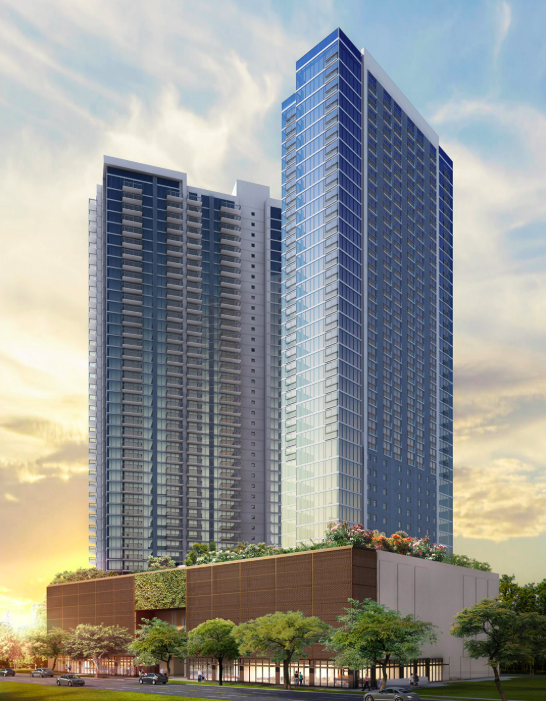 This project is unique since it includes both a residential condominium tower and a separate hotel tower. This will be the first hotel emerging in the Ala Moana neighborhood since the Ala Moana Hotel was built.
Residential Condo Tower - Sky West
The residential tower, aptly named as Sky West, will be located on the Ewa (west) side of the property and will include approximately 176 one-bedroom condos and 214 two- bedroom condos. Prices start in the high $500,000s and with 2-bedroom units starting in the mid $700,000s. All units in the residential tower will contain lanais.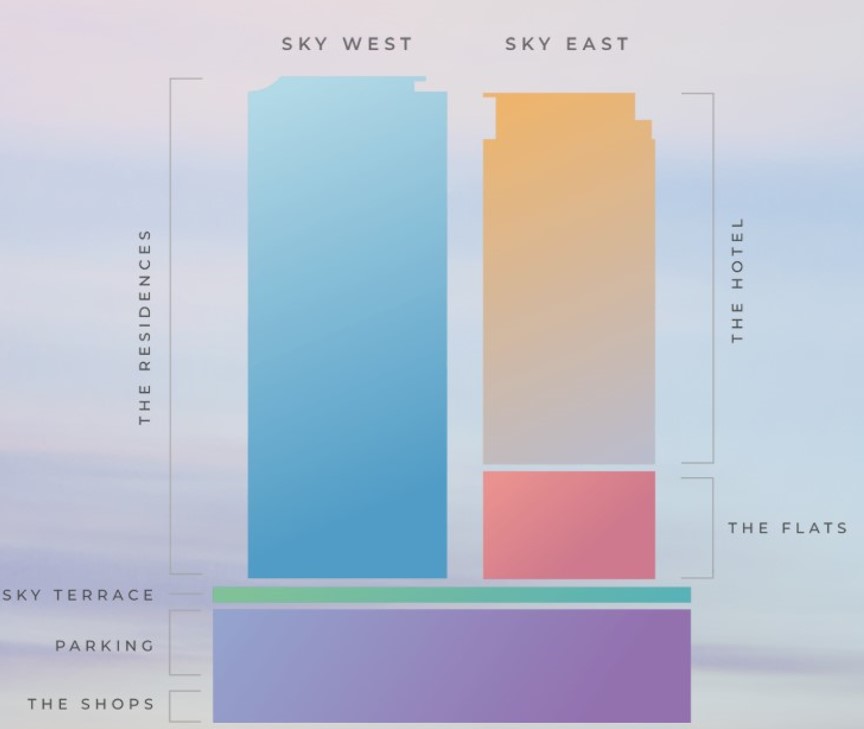 Sky Ala Moana Floor Plans
The Sky West Tower will feature 390 one and two bedroom condominium units, each of which is designed to optimize floor space.
Two bedroom units feature a spacious living and dining area and 2 baths. The lanai offers ample room to relax and enjoy the stunning views of downtown Honolulu and Diamond Head.
One bedroom units sport a kitchen complete with new appliances. Guests and residents benefit from large living rooms with a lanai and luxurious bedrooms with floor to ceiling windows that look out upon the magic of Oahu.
All units come with 2 full baths and washer/dryer combination, so you have all the amenities you need at your fingertips.
Sky Residences
The Sky Residences at Ala Moana will feature floor to ceiling windows to get the full effect of the stunning panoramic views. Kitchens will be furnished with new appliances and special attention given to the quality of the fixtures.
The room's timeless textures and clean lines will integrate the food prep areas with living and dining areas for smooth transitions throughout the space. Expect Hansgrobe fixtures, Bosch appliances, and carefully chosen pieces on display in the cabinetry.
Professionally chosen décor will light up each room and leave you feeling refreshed after a short time in your new space. You'll want for no modern convenience in your Sky Residence.
Sky Ala Moana Availability
The response to Sky Ala Moana has exceeded expectations. Buyers and investors claimed more than 70% of available units even before breaking ground for the new structures. If you're interested in purchasing one of the remaining units, register now before they're all gone.
Sky Ala Moana's appeal comes as no surprise. After all, the condo hotel is set to rise in one of the most convenient, compelling areas of the city. When complete, it will give residents easy access to the full scope of urban convenience, complete with stunning views on all sides.
Sales will be happening soon with the Developer's Public Report the only thing that they are waiting approval on. If you are interested in a owner occupant or investor unit at Sky Ala Moana, please register your interest in the form below and a representative of UrbanOahu.com / Locations LLC will contact you and keep you informed of the sales process.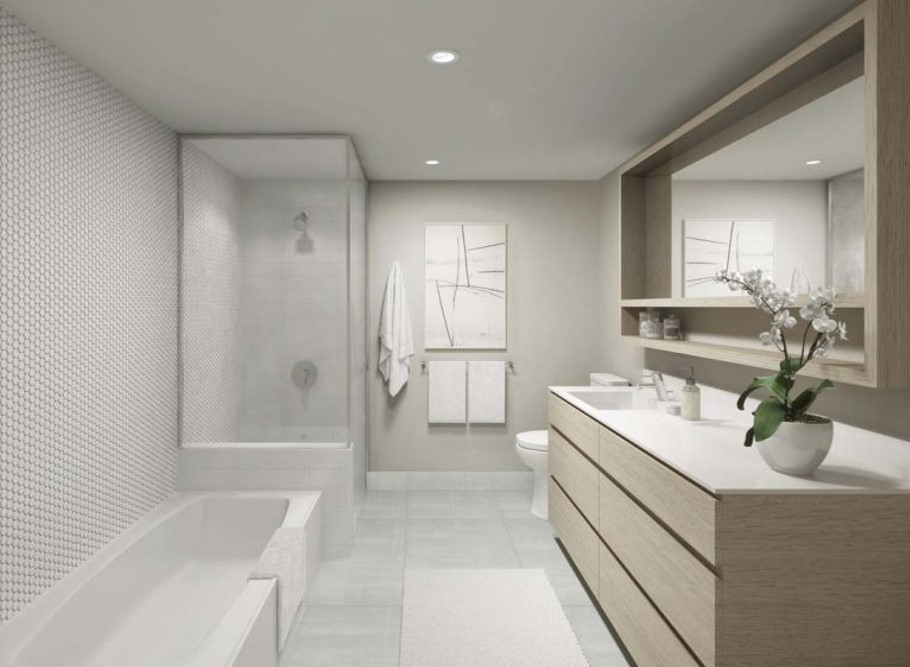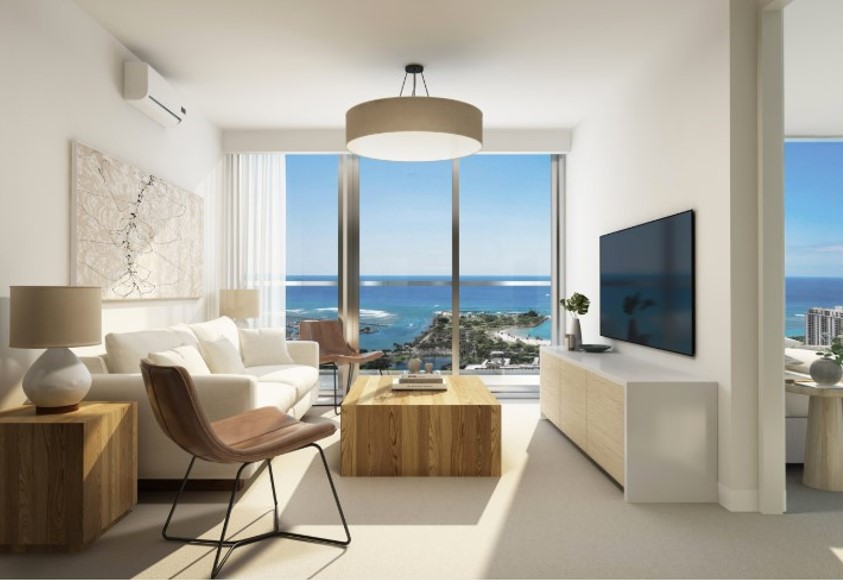 Sky Ala Moana Prices
While many units have already sold, several are still available for purchase. You'll find 1-bedroom, 1-bath units priced at a minimum of $568,800, while 2-bedroom, 2-bath units range from $785,300 to over $1 million.
Sky Ala Moana unit prices are consistent with the local real estate market value. Prices reflect the central location, abundant amenities and attractions both within the units and in the surrounding city, and the quality of the development.
Sky Ala Moana Affordable Housing
The developers of Sky Ala Moana are committed to providing equal access to these state-of-the-art units. Therefore, 84 units available in the Sky East portion of the development will be designated as affordable housing for residents earning 100% to 120% of the local median income.
As part of the development agreement, and to discourage speculators from trying to gain access to these units, Sky Flats must keep their affordable status for 30 years minimum.
Sky Ala Moana Lottery
While Sky East will feature Sky Flats' affordable housing and 300 luxury hotel rooms, Sky West, will be entirely residential. It contains 390 1- and 2-bedroom units with different layouts that make each space unique.
All units on even-numbered floors in Sky West are reserved exclusively for owner-occupants. Those who wish to access these units registered with the developer and participated in a lottery held on April 1, 2019. The lottery's success resulted in the vast majority of owner-occupied units sold at that time.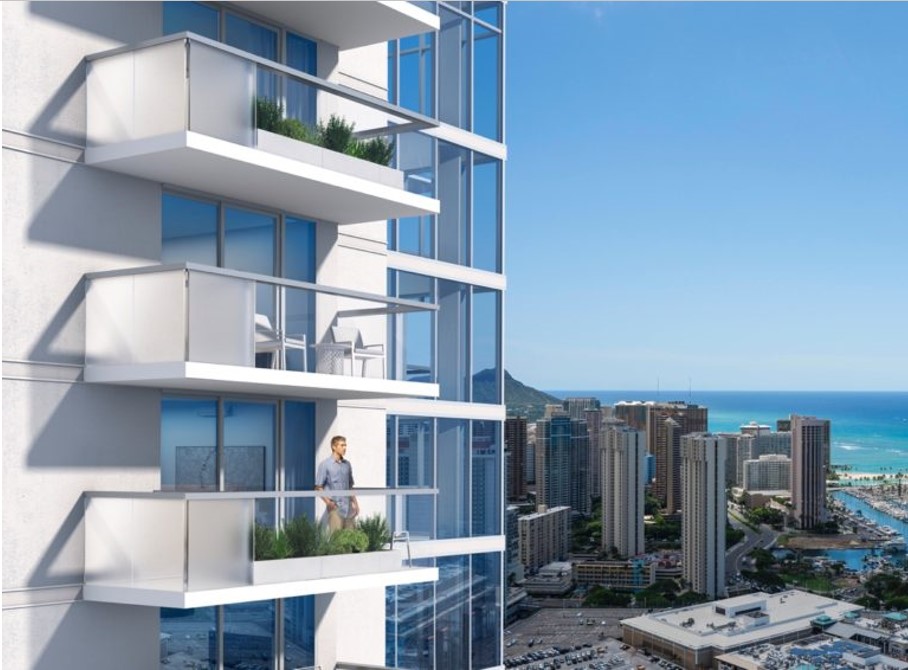 Views from Sky Ala Moana Condo Tower
One of the most exciting parts of the Sky Ala Moana Condo Tower will be the awe-inspiring views. To the east, residents can watch the sun rise over the iconic landscape of Diamond Head. On clear days from the upper floors, you'll see Molokai and Maui in the distance.
To the north, the Honolulu Watershed Forest Reserve spreads far and wide around majestic volcanic peaks. To the west lies beautiful and historic Pearl Harbor and beyond that the Waianae Forest.
Lastly, to the south, the Pacific Ocean's endless expanse extends to the horizon, ready for you to get lost in the rippling blue view. Once you've seen the views from Sky Ala Moana, you won't want to leave.
Sky Ala Moana Maintenance Fees
The Sky Ala Moana monthly maintenance fees are expected to be approximately $0.95 per square foot. These fees will cover electricity, water, internet, cable, and sewer charges.
Upon completion of the project, the fees may be subject to slight changes. However, the $0.95 per square foot number is currently the most accurate figure.
The Sky Ala Moana Hotel Tower - Sky East
The hotel tower, or Sky East, will be located on the Diamond Head (east) side of the property and will contain approximately 225 studio units, 50 1-bedroom units and 25 two-bedroom units.
Originally the thought was that Sky East would be a condo hotel with individual units available for purchase, similar to Ala Moana Hotel. This has changed and now the Sky East Tower is being marketed for purchase as a single entity and to be sold privately by the Developer, Avalon Development, to a 4-star caliber hotel operator.
The condo hotel concept, also known as "condotels", is attractive to investors since the unit can be rented out on a daily or weekly basis, which increases the investors return on their investment.
Sky East will feature breathtaking views of Diamond Head, downtown Honolulu, and the Oahu coast.
Owing to its perfect central location and suites fully furnished and complete with amenities, Sky East will quickly become a destination of choice. It's the ideal place for discerning leisure travelers, business travelers, and relatives visiting residents of Sky West who want to vacation in luxury, style, and comfort.
Sky West Overview
176 One Bedroom Lanai units

214 Two Bedroom Lanai units

One-Bedroom prices start in the upper $500,000s

Two-Bedroom prices start in the mid $700,000s
Sky East Overview
225 Studio units

50 One-Bedroom units

25 Two-Bedroom units
Sky Terrace
Above the hustle and bustle of Kapiolani Blvd, the Sky Terrace awaits those in need of relaxation eight floors above. Here, you can relish the fresh air while you catch up with friends and neighbors.
The Sky Terrace's 54,000 square feet of outdoor space will satisfy your desire to go out and stay in all at once and enrich the Sky Ala Moana experience. The Sky Terrace encompasses both Sky West and Sky East and combines the feeling of a lively urban park with that of a private resort and sets no limits when it comes to relaxation and rejuvenation.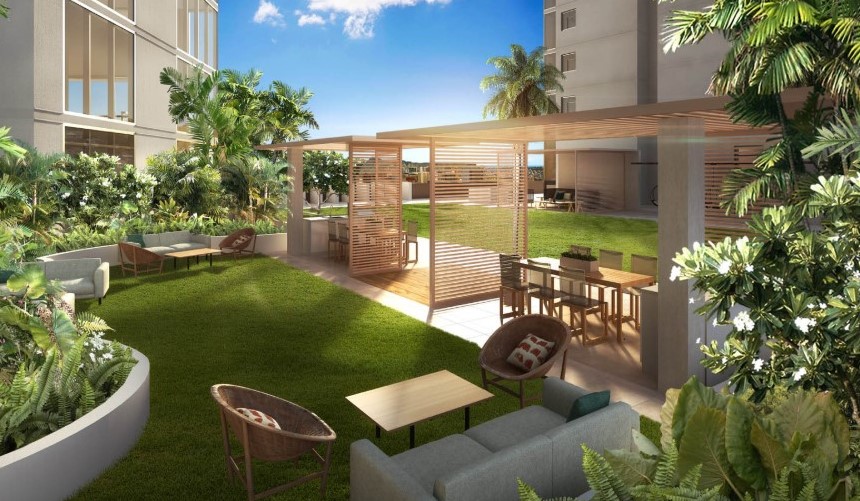 Sky Terrace Amenities
Sky Terrace amenities add a new dimension to the concept of urban living. Sky Terrace's bbq cabanas, meditation gardens, a playground for the kids, and a day spa ensure the entire family has something to love about this luxury living space.
The Great Lawn exudes the essence of Central Park and the Grounds of the Imperial Palace. Participate in low-impact exercise in the lap pool or kick back next to the enormous heated saltwater pool. Talk to locals and vacationers alike at the Social Club.
Even your dog reaps the benefits of Sky Terrace with the dog run, where he can stretch his legs alone or meet new dog pals. Sky Terrace's optimal design excludes no one.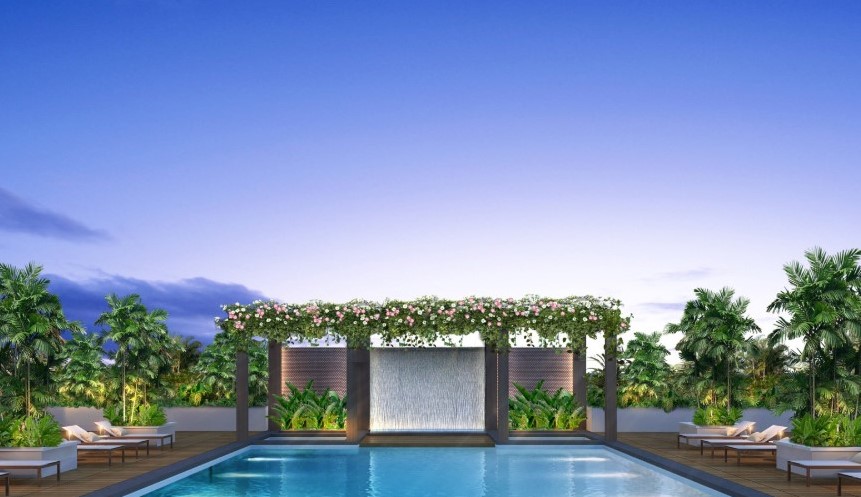 Located about 75 feet above the street level, the Sky Terrace will be well above the beautiful tree-lined street of Kapiolani Boulevard.
And, since the property will be in urban Honolulu, look for the developer to line the Terrace with nice trees and landscaping to create a sound barrier and a private feel to the recreation area. It is anticipated that this green space will be much like the amenity decks at One Ala Moana and Park Lane.
Location and Address
Sky Ala Moana's central location fronts Kapiolani Blvd in one of Honolulu's most desirable neighborhoods, complete with a rich canopy of Banyan trees. The condo hotel's 400 ft height will provide breathtaking views of the entire island. Ala Moana has a reputation as one of the city's most pleasant and popular areas. It offers an ideal combination of dining locations, shopping centers, and entertainment opportunities for the sophisticated urban dweller.
The Honolulu waterfront sits a mere three blocks south of Sky Ala Moana. There, you'll find the Ala Moana Regional Park with its impressive white sand beaches and Kahanamoku Lagoon, home to the Hawaii Yacht Club and Kahanamoku Beach.
A 3-minute drive down Ala Wai Blvd will take residents to the iconic Diamond Head, where you can hike trails up to the peak and take in the stunning view of this natural landmark.
Located at 1388 Kapiolani Boulevard in Honolulu, Sky Ala Moana's proximity to world-renowned Ala Moana Center will be an added bonus to both the residents of Sky West and visitors in Sky East. As Honolulu's premier shopping destination, Ala Moana Center is home to the world's most popular brand names, in addition to the largest variety of 4 and 5 star rated dining experiences one can imagine.
Some Ala Moana Center highlights are:
Bloomingdales

Macys

Neiman Marcus

Nordstrom

Bubba Gump Shrimp Co.

Morton Steak House

Honolulu Coffee



The location will also be very close to the highly anticipated Ala Moana Rail Station which will allow visitors the option of catching the rail for a quick 20 minute ride to and from the airport.
If this project is something that has been on your radar, please register your interest in the form below and a representative of UrbanOahu.com / Locations LLC will contact you and keep you informed of the sales process.
Sky Shops
Sky Ala Moana will have 16,000 square feet of commercial space, hosting a variety of clothing, dining, and other retail establishments. These shops intend to complement those in nearby Ala Moana Center, renowned for its mix of high-end stores like Nordstrom, Neiman Marcus, Bloomingdales, and Macy's.
Between the in-house offerings of the Sky Shops, the dazzle of the Ala Moana Center, and the eclectic mix of eateries, cafes, and boutique clothing stores, Sky Ala Moana will be ground zero those looking for quality retail therapy.
Parking at Sky Ala Moana
Each 1-bedroom unit in the Sky Ala Moana development comes with a single covered parking stall, while each 2-bedroom unit has two covered parking stalls. Parking is safe, convenient, and clean.
All parking areas are well-lit and monitored around the clock by state-of-the-art security systems and trained security officers. The parking area will be accessible by fob, and the four levels of parking will include 428 bicycle stalls, as well as 30 car stalls reserved for guests.
Frequently Asked Questions About Sky Ala Moana
What is the price range?
Currently, the available units range from $661,000 (Unit 3104 - downtown facing) to $1,116,80 (Unit 2401 - Diamond Head facing)
How many different floor plans are available?
Each floor has 11 units and each one has a slightly different floorplan. There are 5 one bedroom units and 6 two bedroom units on each floor.
Does Sky Ala Moana offer any affordable housing units?
Yes, the affordable housing units are located on floors 9 - 14 and will have a hotel view but will not have a balcony. Sixty studio residences, 6 one-bedroom and 18 2-bedroom condos are included in the design.
What is Sky Ala Moana Flats?
Sky Ala Moana Flats is another name for the affordable housing units.
Will there be a lottery for the affordable units?
That has not yet been decided.
What is downtown vs Diamond Head?
These refer to two different sides of the same tower depending on the view from the unit.
Are all the units in the tower?
Yes, all of the units are in the Sky Ala Moana West tower.
Who is operating the hotel?
The hotel operator has not yet been announced, although the developer guarantees it will be rated 4 stars or better.
What is the condo maintenance fee?
The condo maintenance fee is 94 cents per square foot and includes water, sewer, cable, and internet.
What is Sky Ala Moana West?
Sky Ala Moana West is the west side tower and contains all of the residences.
What makes Sky Ala Moana different from other new condo developments in Honolulu?
The biggest difference is more than an acre of amenities. Condo owners have full use of all amenities including a gathering space, great lawn, meditation garden, dog park, social club, playground, pool, sundeck and fitness center. Hotel guests have limited access to these amenities. The condos at Sky Ala Moana also come with high end finishes and professionally designed interiors.
When will construction be completed?
Construction should be finished in 2022.
Where is the sales office located?
The sales office is located at 1538 Kapiolani Blvd, #102, Honolulu, HI 96814 and is open from 10:00 am to 6:00 pm. Contact [email protected] to set up a viewing.
Who is the developer?
The developer is JP Avalon Capbridge LLC, 800 Bethel Street, Suite 501-A, Honolulu, Hawaii 96813.
Who is the builder?
Who designed the interiors?
Interiors have been designed by Philpotts Interiors, 40 South School Street, No 200, Honolulu, HI 96813
Who designed the amenity deck?
Who is the architect?
The architect for Sky Ala Moana is Design Partners, 1580 Makaloa St Suite 1100, Honolulu, Hawaii 96814
How many units are available right now?
As of August 1, 2019 there are 126 units available.
*Images are courtesy of Avalon Development
About John Gephart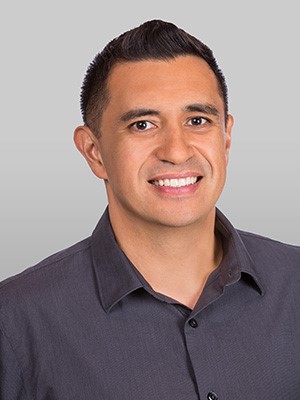 John Gephart specializes in Oahu real estate and will be happy to set up a private showing at Sky Ala Moana. For more details on this or other new projects in Honolulu, please contact him at 808.203.7424 or email to [email protected].
You can read more about John by clicking here.
Click here for our Testimonials!