Complete Guide to Fishing in Hawaii
Posted by John Gephart on Tuesday, December 3, 2019 at 4:27 PM
By John Gephart / December 3, 2019
Comment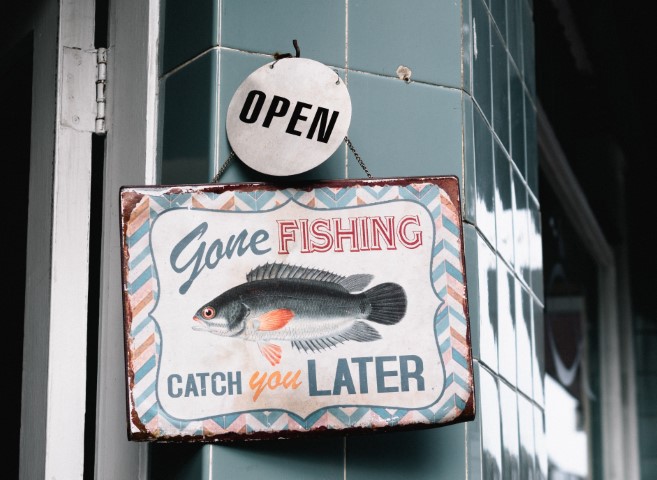 Are you planning on a fishing trip to Hawaii? You should definitely be prepared to make your trip fun and exciting. This article gives you a complete guide to fishing in Hawaii.
You will be able to read a detailed summary of Hawaii's fishing regulation and important things that you need to know before fishing. In addition, there's a detailed guide about shore fishing where you can learn about their amazing ancient or modern shore fishing.
Furthermore, you will be able to learn more about deep fishing or fly fishing. To complete your adventure don't forget to read about the best places to fish in Hawaii in this article.
Hawaii's Fishing Regulations
Fish licenses: Ocean fishing in Hawaii, from shore or on a boat, does not require a fishing license. However, freshwater fishing in Hawaii lakes or rivers does require a license. To obtain a freshwater fishing license in Hawaii, visit https://dlnr.hawaii.gov/dar/fishing/licenses-and-permits/.
Minimum sizes and weights: There are certain requirements as to what size and weight of freshwater fish can be kept. It is up to the fisherman to stay current on ever-changing requirements. This information can be obtained when securing a fishing license.
Saltwater fishing in Hawaii can be seasonal. Certain shore fish like Moi can only be caught in certain months of the year. Hawaiian lobsters can also only be caught seasonally and there are restrictions as to how lobster can be caught. (Nets, spears and other fishing tools can not be utilized.)
Things to Know Before You Go Fishing
Consistently perfect fishing weather year-round draws anglers from all around the world to Hawaiian waters. However, even on the most beautiful of days, strong ocean currents and unexpectedly large ocean swells can make certain fishing areas dangerous. Before heading out on a boat, or even setting up shore casting lines on Hawaii beaches, anglers must make sure to check the day's forecast.
Keeping current on predicted ocean activity goes a long way in ensuring a safe and productive outing. The National Weather Service website provides in-depth and accurate ocean reports.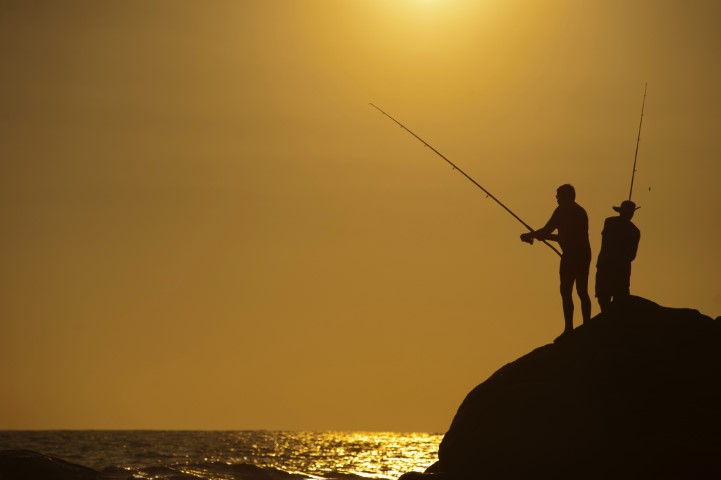 Familiarizing yourself with local areas before you cast a line out is also a good idea. Is the area you plan on fishing a popular swimming/surfing spot? Can you cast outlines that will not interfere with kids swimming?
Of course, ensuring you have the proper fishing license or ensuring the fish you are targeting is in season is of paramount importance to avoid any fines or tickets. Penalties for not adhering to Hawaii's fishing regulations can be steep and they are actively enforced.
Learning proper fishing knots can make the difference between successfully attracting and landing a fish, and failing to do so. Popular fishing knots to know in Hawaii:
Using a proper lure for Hawaii fish is also important. Fishing lures to know for Hawaii are
Jigs
Spinners
Spoons
Plugs
Poppers
Spinnerbaits
Guide to Shore Fishing in Hawaii
Shore fishing Ancient Hawaii Style:
Ancient Hawaiians used various fishing techniques that are still commonly used today. One style of group fishing was called a Hukilau. More than just a fishing expedition, Hukilaus were community events, bringing people together to fish, dine and socialize. Large nets made of plant fibers called Olona fibers were set out in shallow coastal areas. Groups of Hawaiians would pull the nets out together and the haul of seafood was cooked and shared by all.
The Hawaiians of yesteryear also used hook and line methods of fishing, along with spearfishing. Hooks were commonly made of bone, wood or even shells while the fishing line was often made of the same plant fibers used to create the Hukilau nets. They used a variety of baits, many still commonly used today. One of the most unique baits used often were certain plants and seaweeds, soaked in squid ink to attract more fish.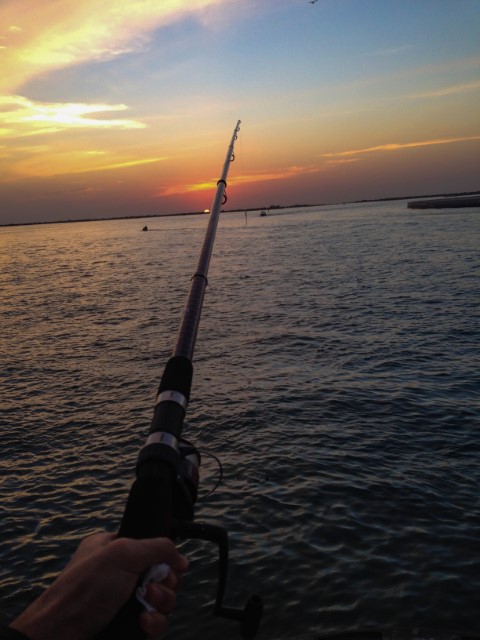 Modern Methods of Shore fishing in Hawaii:
Dunking: One of the most common shore fishing methods used in Hawaii is referred to as "dunking". A 3-way swivel is tied to the main fishing line and a lead line and hook line is separately tied to the swivel. If the waters being fished are rocky or even a full reef shelf, the line used to tie the lead line is longer and lighter than the hook line. The object is to get the lead line stuck in the rocks, ensuring that the hook line floats around free so a fish can bite it. When a fish bites, the lead line breaks free allowing the angler to then fight the fish and land it.
Whipping: A very fun and more adventurous style of shore fishing is called whipping. A barrel swivel is attached to the mainline and a leader line with a lure at the end is tied. The fisherman ventures out into the ocean, in shallow waters, walking on sand or reef. The line is cast out and reeled back in over and over until a fish is attracted to the lure and bites it. Depending on the type of fish one is after, whipping can occur in the shallow waters covering a reef or into deeper waters into ocean channels at the end of a reef shelf.
Slide baiting: "Slide baiting" is a method used when fishing in deeper waters off of a cliff. A large fishing pole, typically with a conventional reel, is used to cast out a lead line as far out as possible. Once the lead sinks to the bottom and is set, a large hook baited with large bait is slid down the mainline. The steep trajectory of the drop ensures the hook makes it to the bottom. Large fish are targeted and if caught, often a gaff is needed to slide down with a rope attached - to secure the fish and bring it up the cliff.
Fly fishing: While not a typical method of fishing Hawaiian waters, fly fishing has become popular in certain areas - Kaneohe Bay on Oahu is one such area. Typically, O'io (Bonefish) is targeted. Fly fishing for O'io can be done from shore or from a small boat.
Best Places to Fish in Hawaii
Big Island Fishing Spots:
Kauai Fishing Spots:
Maui Fishing Spots:
Kahului Harbor Pier (Kahului)
Kamaole Park (Kihei)
Makena Landing (Kihei)
Kalama Park (Kihei)
Black Rock (Kaanapali)
Oahu Fishing Spots:
Waialua Bay Pier (Haleiwa)
Kaena Point
Makai Pier (Waimanalo)
Bamboo Ridge
Heeia Pier (Kaneohe)
Laie Point (Laie)
Lake Wilson (Wahiawa)
Haleiwa Alii Beach Park (Haleiwa)
Ewa Beach Park (Ewa Beach)
Pokai Bay (Waianae)
Guide to Deep Sea Fishing in Hawaii
Charter Boat Fishing in Hawaii
What to Expect: Expect a fun and relaxing day, with little to no work required. There are many charter fishing companies to choose from in Hawaii and the competition has forced all to work hard to ensure their guest's satisfaction. The crew will handle all bait/tackle and equipment, and most will even provide lunch. Deep-sea fishing is a lot of fun, but it is NOT non stop action. Often, fishing crews will go hours without a bite. (Sometimes all day) So expect some downtime and many chances to relax or hold a great conversation with your friend/partner. Waiting for a bite can be almost as fun as fighting a fish when it does come.
What to Bring: Even on good weather days, the chances of getting wet are high. You are surrounded by the ocean after all. Make sure to bring a dry change of clothes. Also, shoes with a good grip are necessary to ensure you don't slip on the boat. If your charter provides lunch, there's no need to worry about meals but you may want to bring chips, nuts, or other snack items. If you're a beer drinker, make sure to bring a stocked cooler as most charters will not provide alcoholic beverages.
In Hawaii, sunscreen is an absolute necessity. Forgetting to bring it could result in a terrible sunburn and could ruin your whole trip. You'll also want to remember to bring a camera. (A GoPro or other similar waterproof model is best.) Landing an 800-pound marlin is something you'll want a visual record of. Lastly, if you get seasick, make sure to bring along seasickness medication. The waters around the Hawaiian islands can get choppy and even people who normally don't get seasick on boats may experience some level of nausea while sportfishing in Hawaii. Better safe than sorry.
How Long are the Fishing Charter Trips?
Most charter companies have time options. You can book multi-day trips where you spend 8-12 hours per day fishing for two or more days total. You can also opt for a half-day trip where you spend just 4 hours at sea. Keep in mind, while charters start their trips at different times, many fishermen in Hawaii believe that fishing early hours are best. Also, it can take several hours to reach certain destinations as many as 15 or more miles from shore. Make sure to ask about these options before booking.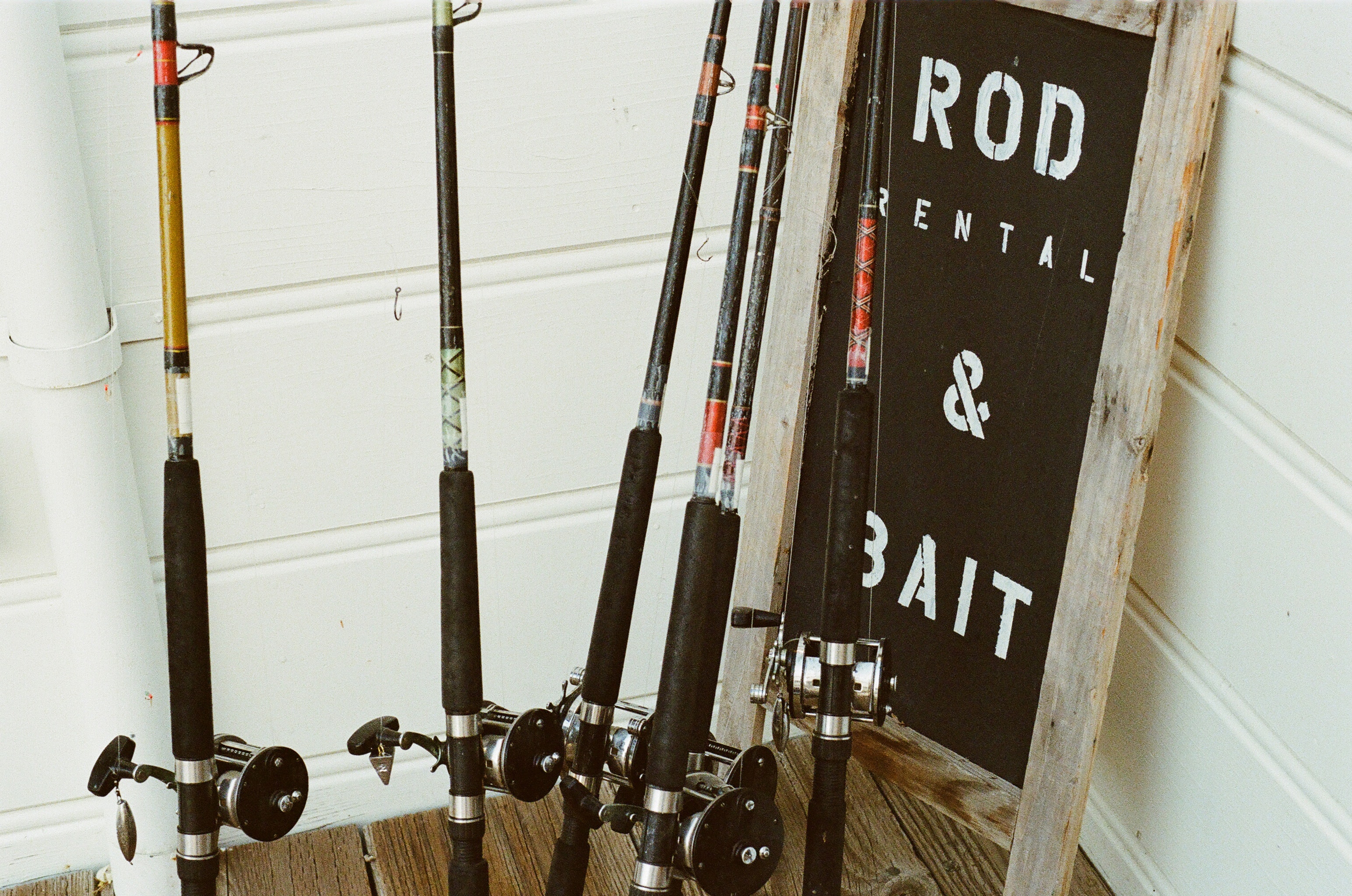 Types of Fish Can you Catch When You Go Deep Sea Fishing in Hawaii:
There are many, many types of fish that can be caught and enjoyed at the dinner table when fishing in Hawaii. The style of deep-sea fishing you do will somewhat determine what types of fish you can catch.
Trolling: This is the most popular style of charter fishing because it provides an opportunity to land the greatest variety of large fish species.
Ahi or Yellowfin Tuna
Aku or Skipjack Tuna
Blue Marlin
Mahi Mahi or Dorado or Dolphin Fish
Ono or Wahoo
Striped Marlin
Bottom Fishing: While the type of fish you may catch are smaller than those of trolling, there are better odds to catching fish bottom fishing and the species available are every bit as tasty as the larger species.
Uku or Gray Snapper
Ulua or Trevalli
Menpachi
Kahala or Amberjack
Kaku or Baracuda
Guide to Fly Fishing in Hawaii
While not the most popular style of saltwater fishing in Hawaii, fly fishing has caught on with some anglers in recent years. Most fly fishing in Hawaii is aimed to catch O'io or Bonefish. The fish is well named as there are many large and small bones throughout its body which can make it challenging to eat. However, the meat is extremely tender and tasty and therefore has become a very popular fish to make fishcakes and other mixture type delicacies. Fisherman will use rolling pins to squeeze the meat out.
Of course, fly fishing can be done in freshwater locations for a wide variety of fish.
Where to Go: Popular fly fishing spots in Hawaii
Lake Wilson
Kokee State Park
Kiholo Bay
Kona
Coast State Park
Puako Reefs
Kaneohe Bay
No matter what time of year you decide to fish in the beautiful state of Hawaii, or what fish you decide to target, or what style of fishing you choose to use, or what specific location you select - you will have a great time fishing. Taking some time to learn the rules associated with fishing here will ensure you have a great time. Also, checking out the weather reports and researching the local customs will help to keep you safe and ensure quality time spent fishing.
Soon, you will be yelling, "Hanapaa!" (Hawaiian slang for fish on!)
Now that you have read all of the fishing guides to Hawaii, remember to take note of it so that your fishing trip would be enjoyed to the fullest. This is an adventure in a lifetime that you would not want to miss. Be sure to check out my other posts to know more about what you need before going on a fishing trip to Hawaii.