Moving to Hawaii - Tips & Tactics to Making The Big Leap
Posted by John Gephart on Sunday, June 7, 2020 at 11:35 AM
By John Gephart / June 7, 2020
Comment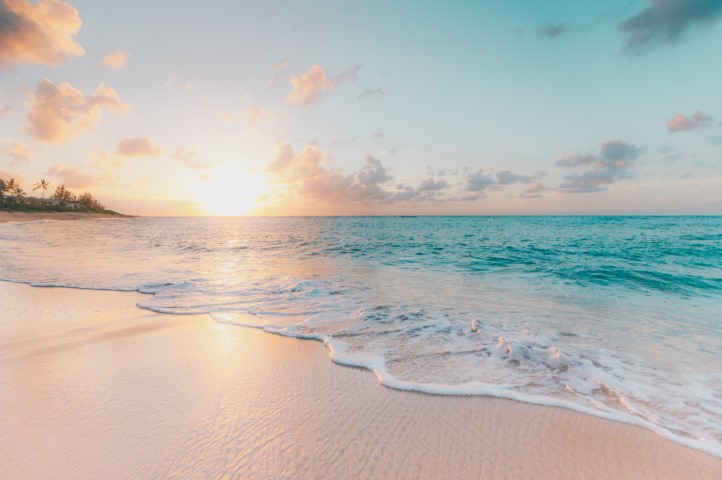 Hawaii is one of the most idyllic regions in the world. A place often associated with a beautiful beach paradise, perfect weddings, and escapism. For some, the idea of living here is an abstract dream.
If your heart is set on moving to Hawaii, we are here to tell you it's possible. This state is close enough to the U.S. which means you won't experience a terribly drastic geographical change. You will, however, wake up every morning to gorgeous scenery.
Our guide will help you answer the question, "How to move to Hawaii". We'll go over everything you need to know before making the move to this scenic state. Let's get started!
About Hawaii
Hawaii is one of the fifty states in the U.S. and is made up of eight main islands. While there are eight beautiful islands, only seven of them are actually inhabited. Only four islands have a population over 10,000. These islands are Hawaii, Oahu, Maui, and Kauai.
You're probably familiar with the 4 islands listed above. They are each unique and have something different to offer residents. Depending on what you want out of your new life in Hawaii, each island brings something different to the table.
Hawaii or the Big Island
This is not only the biggest of the Hawaiian islands, but the biggest island in the U.S. This part of Hawaii was formed due to a hot spot in the Earth's crust. This means there are three active volcanoes on the island. Don't let this scare you away as they act as some of the most iconic and beautiful backdrops in this state.
You'll be surprised to learn that this island holds 12 climate zones. This means you can experience anything from lush rain forests to snowy mountains. Plus, due to the Kilauea volcano, it's a hot tourist spot that brings in both revenue for the island and jobs for its inhabitants. However, if you're wanting to avoid tourists, consider living on the eastern side of the state as its less populated with tourists.
Largest City: Hilo
Population: 186, 739 (2011)
Unemployment: 3.7% (2019)
Oahu
Oahu is the third-largest island in this state and the most heavily populated. It is home to the largest city in Hawaii - Honolulu (also the state capital). It's also home to Hawaii's government and economy, contributing to its name as the 'Gathering Place'.
Like most of all main Hawaiian isles, Oahu is popular with tourists, not only because it's home to two volcanoes, but because of its infamous beaches such as Waikiki beach. There are a variety of shops and activities here which also make it popular. And of course, we cannot forget the historically monumental Pearl Harbour which occurred here.
Honolulu resembles that sky-scraper city life that is so familiar and loved in the U.S, yet with a more tropical and exotic flair. Whether you want to be in the bustling Waikiki or the more tranquil Kaneohe, their exciting foodie and local culture will please wherever you go.
Largest City: Honolulu
Population: 976, 372 (2012)
Unemployment: 2.7% (2019)
Maui
This is the second-largest of the Hawaiian islands, also known as the 'Valley Isle'. This is because of the huge valley that lies between it's two major volcanoes. The beaches and its outstanding landscapes are what visitors and residents adore about Maui.
Products such as coffee, pineapple, flowers, macadamia nuts, and sugar are all produced here, which works in favor of their economy and agriculture. As well as residents getting some organic and local goods.
Kaanapali Beach, Lahina and Haleakala National Park are just some of the wonders that make this island so desirable to live and visit.
Largest City: Kahului
Population: 154,834 (2016)
Unemployment: 2.5% (2019)
Kauai
Now we come to the fourth largest island, Kauai. This is also referred to as the 'Garden Isle' and you probably don't need us to tell you why that is! This is one of the lesser developed islands, however, that is exactly where its charm lies.
The Na Pali Coast resides here, lined with waterfalls, valleys, and streams. It is one of the most breathtaking places on the planet. With no volcanoes here, this mountainous region may be more your forte. Tourism is where this island gets most of its revenue.
Largest Town: Kapa'a
Population: 72,029 (2016)
Unemployment: 2.1% (2017)
Now that you know a bit about the 4 islands, you can decide which is the best island to live on in Hawaii! Here are a few more factors to consider before finalizing your decision.
Cost of Living in Hawaii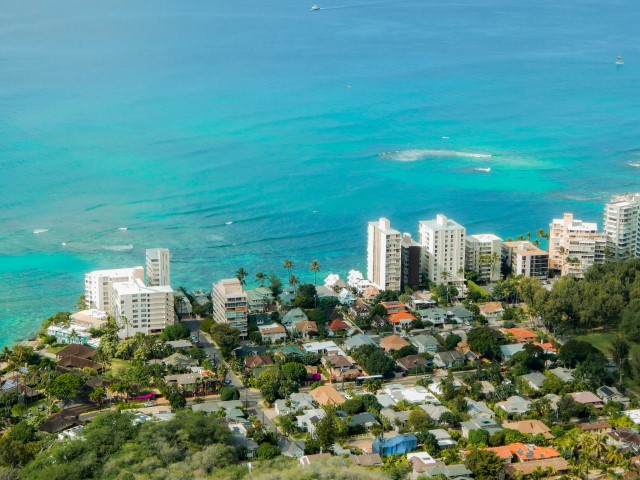 Initial Moving Costs
Like anywhere you decide to migrate to, moving to Hawaii will require some initial fees. These fees will include such things as moving your furniture (if you plan to bring any), booking a flight and accommodation when you get there. If you want to ship your car over too, that will add to the costs.
If you're a U.S citizen you won't have to worry about visa costs like other foreign nationals will. If you aren't from the U.S, then you will have to fork out for a H1-B visa which can cost around $5000. It's wise to save up some money before you make the final leap and fully locate for that extra added security.
With all this aside, it's important to know the cost of living in Hawaii as a whole.
Is it expensive to live in Hawaii? Yes and no. (But mainly yes)
Living Costs
Hawaii is deemed one of the most expensive places to live in the United States.
The cost of living in Hawaii is high. In fact, it's one of the most expensive states in the U.S. The cost of living in Honolulu, the capital, is extortionate! A bottle of wine, for example, costs around $20. 16oz of cheese costs around $11 and 1lb of chicken breast $6.
The utility bills in this part of the states are also pretty high, although they do vary from one island to the next. The small island of Lanai is the most expensive and Oahu is the cheapest. You'll be pleased to know that taxes in this Aloha state are some of the lowest in the nation, so it's not all bad!
Housing Costs
Renting costs are much higher than other mainland states, with the average monthly rent being around $2,400. Compared with the living wage of the residents in Hawaii, it doesn't quite match up either. To afford it, locals usually have to spend around 30% of their income to pay rent.
The cost of homes in Hawaii can vary significantly. In Hilo, the average on $300k, in Waipahu $700k and Kailua can reach $1 million and above. We've put together a comprehensive list of our favorite new condo developments in Honolulu to help with your housing research. Again, Oahu is currently the cheapest Hawaiian island to live on and Wailea, in Maui is the most expensive.
So, yes the living is pricey, we won't lie. However, the living is easy and you can't put a price on the quality of life there. There is also plenty you can enjoy without spending a dime here. This includes lazing on one of the most beautiful beaches in the entire of North America or walking through stunning rain forests.
Jobs and Work in Hawaii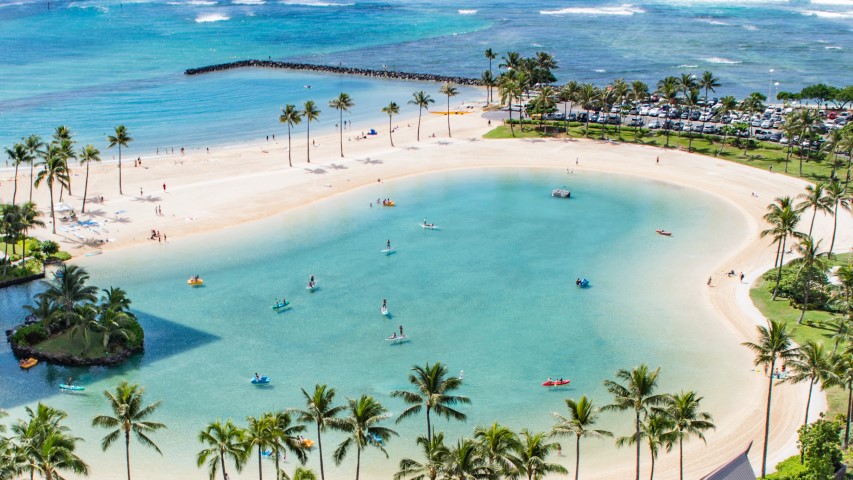 The biggest industry in Hawaii is the tourism industry. With tourism comes a variety of jobs, such as working at food stalls, waiting at or owning restaurants, hotel work or management, and retail. This can be ideal for finding an existing job or becoming an entrepreneur, mind you will have a lot of competition!
Agriculture is also huge here with some amazing and highly valued fruits and foods grown here. Some residents even produce these goods in there very own back garden.
Pay
Salary on these islands, unfortunately, isn't as good as on the mainland. However, with the average salary being between $30-50,000, it's not a poor wage to live on. Like with most other areas of the world, the highest paying jobs here are those in the medical, legal, military, and government sector.
Work-life
The working environment in Hawaii, as you would imagine, is much more laid back than what you would expect in other parts of the U.S or the West. The hours are less strict and the dress code doesn't really exist here. Can you imagine wearing a suit in Hawaii?...
Unemployment
The percentage of unemployment in Hawaii is actually half of the rate of other U.S. states. Unemployment rates have been so low for so long that some suggest it indicates a crisis ahead. Yet, this can't be guaranteed. Maybe there's just something these little havens are doing right. Plus, Hawaii isn't necessarily the place to kick-starting your career as it offers a more humble way of life.
Surprisingly, the idea of living in Hawaii does come with its downsides, but these aren't factors that will have a vast and poor impact on your life. Money may be tight, but how could you not be happy in this little utopia? We think this is a leap of faith to be encouraged!
Ready to move to Hawaii? Take a look at current listings in Kakaako including Sky Ala Moana, Keahou Place, and The Collection Honolulu.