Using Your Hawaii VA Loan // The Home Buying Opportunity of a Lifetime!
Posted by John Gephart on Tuesday, January 15, 2019 at 1:46 PM
By John Gephart / January 15, 2019
Comment
Using your Hawaii VA loan can provide you a nest egg for retirement. For many military personnel, being stationed on Oahu in the State of Hawaii is like a dream come true. Being stationed in "paradise" where many people cannot even afford to vacation, and you get chosen to work here?! It's like hitting the jackpot in Las Vegas! Now if you really want to hit the financial jackpot, there is an even bigger opportunity for you to consider when relocating to Oahu which is using your Hawaii VA loan to BUY a home in Hawaii. Using your VA loan to purchase a home in Hawaii is truly the opportunity of a lifetime!
When you move to Oahu AND if you are qualified to live off-post, the MINIMUM amount that you will be given for BAH is $2,850 (if you have dependents) per month. That is a lot of money for just your housing allowance. Depending on your rank, you can receive up to $4,020 per month to spend on your off-post living. If you consider that along with historically low interest rates, you are given a rare opportunity that only a few people in your position take advantage of.
Here is an example: The current Hawaii VA loan rate as of January, 2019 is 4.75%. An E-5 with dependents will be given $3,039 per month towards housing. This BAH amount with 0 money down would qualify this particular person for a $523,000 VA mortgage (see chart below courtesy of Hawaii VA Loans).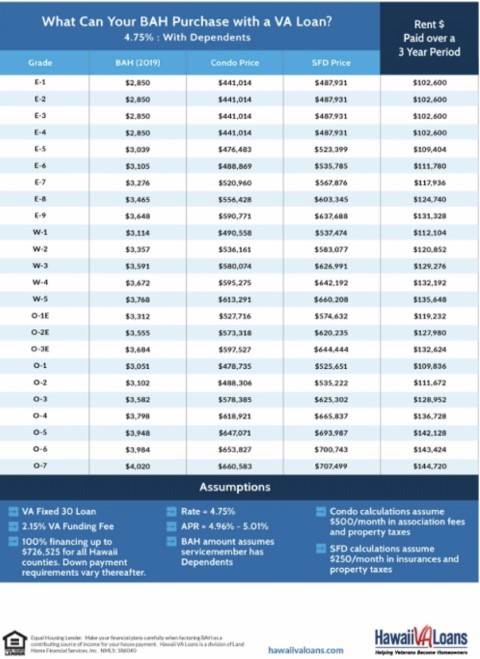 Not only is now a good time historically because of low interest rates to purchase a home in Hawaii using your VA loan eligibility, but buying a home here has also historically been a great investment opportunity. An island such as Oahu has a limited amount of land. Since the land is scarce, that means that land values are higher and real estate prices are more resistant to economic downturns than other areas in the United States that get hit much harder during tough times. When cities like Las Vegas and Phoenix were experiencing price drops of 50%-60%, Hawaii saw an average price drop of 15%-20% in some neighborhoods. Historical graphs and charts of Hawaii's median home values also do not show the drastic price swings that people saw on the continental U.S.
To conclude, when you are relocating to Hawaii, you must consider using your VA loan eligibility to purchase a home in Hawaii. If you know that you will be PCSing to Hawaii, you need to clean your credit, pay off your debt and prepare yourselves financially for the opportunity of a lifetime that the U.S. government is giving you.
I am a Certified Military Relocation Professional and have assisted many Active Duty, Reservists and Retired Military Personnel in buying and selling homes here on Oahu. I am happy to be a resource as you prepare to relocate here and would be honored to help you if you have any questions on the Hawaii home buying process or how to get started using your VA loan in Hawaii. Please give me a call at 808.203.7424 or email me at [email protected] for more information.