801 South Street, Honolulu HI
Island Living For The Budget Conscious
801 South is made up of two towers in the heart of picturesque Honolulu.
Both buildings are moderately new, and have been constructed within the last four years. Tower A houses 635 units, while tower B has 410. Each building is an impressive 46 stories high.
This project began as a way to meet the basic need for more affordable housing in the Honolulu area, and the developer, Downtown Capital Partners, was able to meet this need by using affordable building materials.
After the original construction of the towers, the units were all sold to lower income locals who lived and worked in the area. Since then, many have been resold at a profit to out of state vacationers and investors, alike.
While both buildings A and B are strictly no frills, the units are new, well maintained, and in a great location.
The low fees and great value of 801 South makes it a perfect choice for people who want to experience island life on a budget, or for smart investors looking to scoop up an entry level piece of Kakaako real estate right in the middle of Honolulu.
801 South Floor Plans
Floor plans in 801 South range from vary from basic 384 square foot studios to more spacious 816 square foot, 2 bedroom units.

Each condo includes modern, quiet split air conditioners, in-unit washer and dryers, awning style bedroom windows, energy efficient fixtures and appliances, granite kitchen counter tops, marble in the bathrooms, and fresh white cabinetry throughout.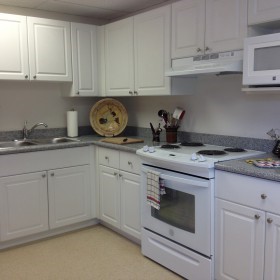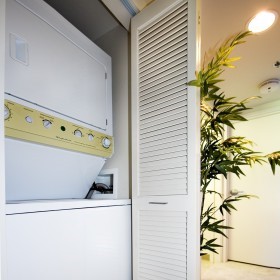 Concrete walls are strategically placed to help reduce noise from traffic and neighbors, and the lanais on each unit, complete with glass railings, are an especially nice feature.
801 has a secure parking structure as well as surfboard and bicycle storage.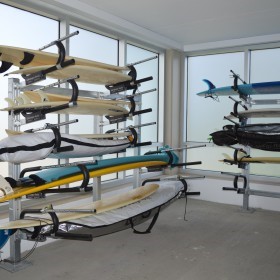 801 South Amenities
In order to keep maintenance fees low, 801 South has very few on-site amenities.
A large recreation room with a kitchen, TV, and bathrooms are available in each tower to reserve for parties and gatherings.
Well-lit resident walkways on landscaped grounds make for safe and pleasant evenings walks if you have a dog, or just need some fresh island air.
The parking garage has ample room for both residents and guests, and entry is only available with electronic key fobs.
An on-site security and management team is always available for whatever needs or concerns may arise.
In my opinion, 801 South's most valuable amenity is its location. For those who are employed downtown, commuting to work from towers A or B is a breeze.
Location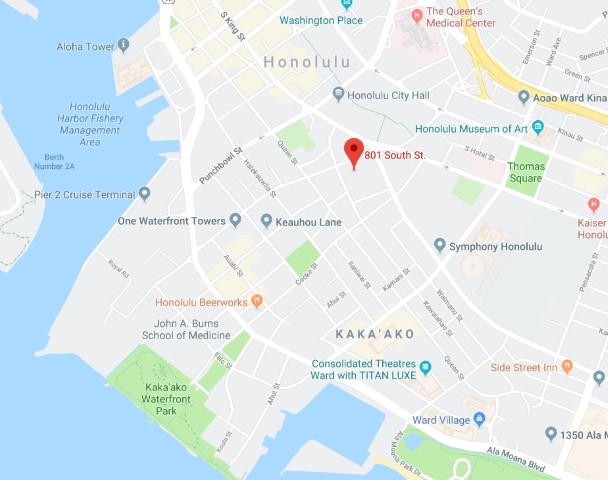 801 South is on the northwest side of Kakaako, just minutes away from Honolulu's downtown. Whether you walk, bike, or drive, getting to work, the beach, or the grocery store is easy and affordable here.
If you are looking for a serene place to pass an afternoon away in Honolulu, Foster Botanical Gardens is a 14 acre oasis full of a wide range of tropical plants and flowers just a mere mile from your complex.
A 10 minute walk will bring you to SALT - an entire city block filled with one of a kind shopping, colorful entertainment options, unique bars, and plenty of trendy eateries.
Or, you could go a bit further to Ward Village (about 20 minutes on foot) and experience this famed neighborhood's unmatched dining options.
If shopping is your thing, you'll love exploring the famous Ala Moana shopping center. Surrounded by fragrant island greenery and beautiful koi ponds, Ala Moana is the largest outdoor mall in the world.
If you would just rather enjoy nature and that famous Hawaiian surf, Ala Moana park is where you'll want to be. Just over a mile from 801 South you'll find this picturesque seaside oasis that's perfect for surfing, picnicking, paddleboarding, or just relaxing.
Condo Prices at 801 South
Basic studio units at 801 South generally sell in the $300,000 range.
The more spacious 2 bedroom/2 bathroom units in the buildings tend to be in the $800,000 price bracket.
As savvy owners continue to re-sell at a profit, it's likely that the original prices will keep on climbing.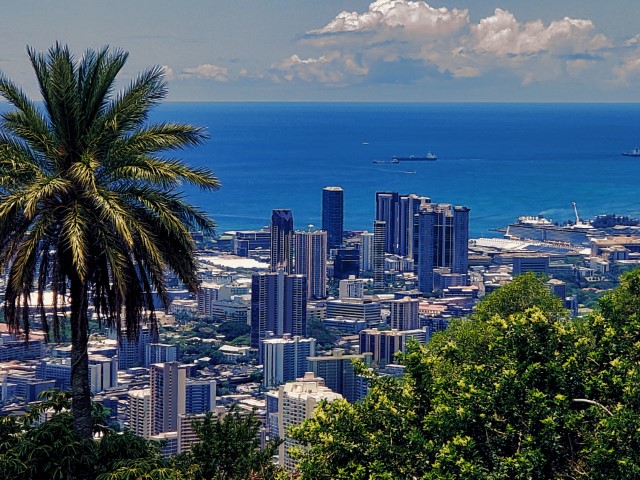 Features of 801 South Street
While this basic complex should not be at all confused with luxury condo living, it is definitely a smart buy in a great location.
If your budget doesn't afford you a condo with more bells and whistles, we still believe 801 South will provide the coveted luxury of real island living to all of its residents.
My Favorite Things About 801 South
Great value with significantly lower monthly fees compared to other condos in Honolulu.
Located in an ideal spot with working, shopping, and playing options all available just outside your doorstep.
Fantastic investment property.
I would love to be your 801 South resource! Please feel free to contact me at 808-203-7424 or via email at [email protected].
About John Gephart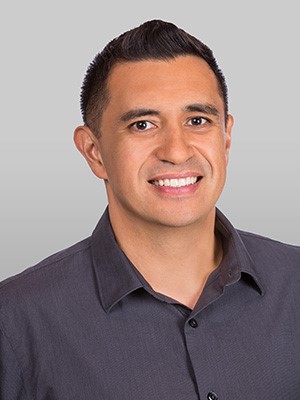 John Gephart specializes in Oahu real estate and new development condos in Kakaako and Ward Village. Call him at 808.203.7424 or email to [email protected] to set up a private 801 South Street showing.
You can read more about John by clicking here.
801 South Street Listings
June 5, 2023