Anaha Condo: Your Best Slice Of Island Life
Built in 2017, the Anaha Condo is a 311 unit, ultra-luxury highrise. Designed by Solomon Cordwell Buenz and Benjamin Woo Architects, it's one of the most sophisticated residential towers in all of Oahu. Anaha, meaning "reflection of light", is a gleaming, modern building that truly lives up to its name.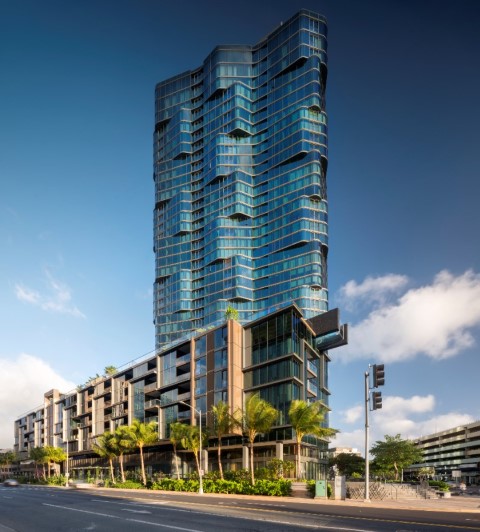 The 38 story LEED certified building is constructed with concrete and a low-emission glass wall curtain, making it incredibly striking and energy efficient.
In the prime location of Ward Village, and with state of the art facilities, a small carbon footprint, and an unmatched design, Anaha condos really are the best money can buy.
Anaha Condo Floorplans
The Anaha condo has 38 floors, and 311 units with approximately 8 units per floor. The building structure of Anaha changes shape as it ascends every few floors, making the floor plans within the same stacks all slightly unique in shape and size. The following floor plans are only one option of the many different layouts available.
Penthouse Floorplan

1 Bedroom Floorplan

2 Bedroom Floorplan

2 Bedroom Floorplan with Den

3 Bedroom Floorplan
Anaha has 1,700 square feet of commercial retail space on its first floor, while the 2nd and 3rd floor host the buildings 2 story townhomes. 1- 3 bedroom units continue up the building, all the way to the coveted penthouse suites.
Anaha Interiors
Inside each of Anaha's condos you'll find 9 foot ceilings, hardwood flooring in the main areas, and high quality carpet throughout the bedrooms. The whole building has a sustainable design, and the interiors are no different.
With energy efficient central air, hot water systems, and LED lighting, you can use your utilities guilt free.
The high end kitchens are all finished with Miele appliances, quartz countertops, gas cooking ranges, and fine European cabinetry. Many of the units even have wine coolers.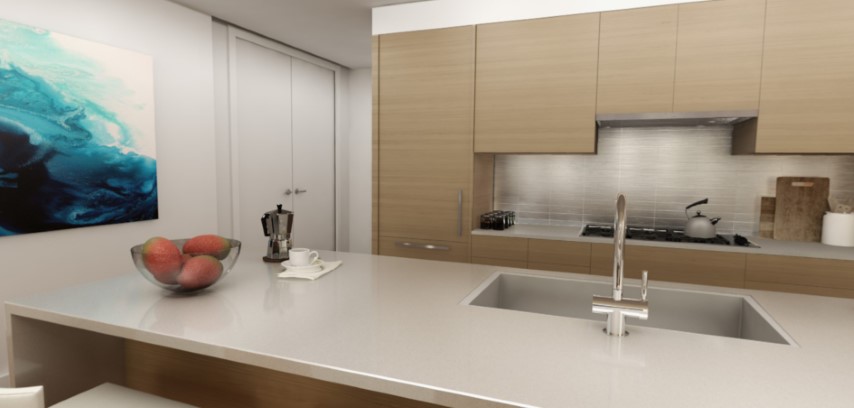 Location
Ward Village is, hands down, Honolulu's most diverse and sophisticated urban neighborhood, and the Anaha condominium is right in the heart of it all.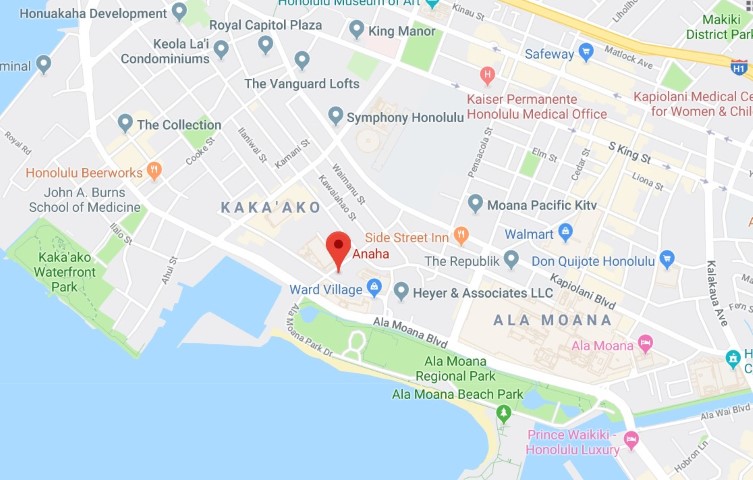 Beautiful outdoor spaces throughout the area are designed with the richness of Hawaiian arts and culture as a focal point. This strategically designed community hosts a large range of shopping, dining, and entertainment experiences for all tastes.
At the lower level of Anaha, you can enjoy fresh, upscale cuisine that is steeped in Hawaiian tradition at Merrimans. Local chef, Peter Merriman, prides himself on being an influential part of the farm to table movement in Hawaii, and his unique eatery is a testament to his passion.
Shoppers will be delighted to know that the world renowned Ala Moana shopping center is just a few minutes walk from Anaha. This massive outdoor mall hosts nearly 300 shops and restaurants, all against the lush backdrop of Oahu's tropical greenery.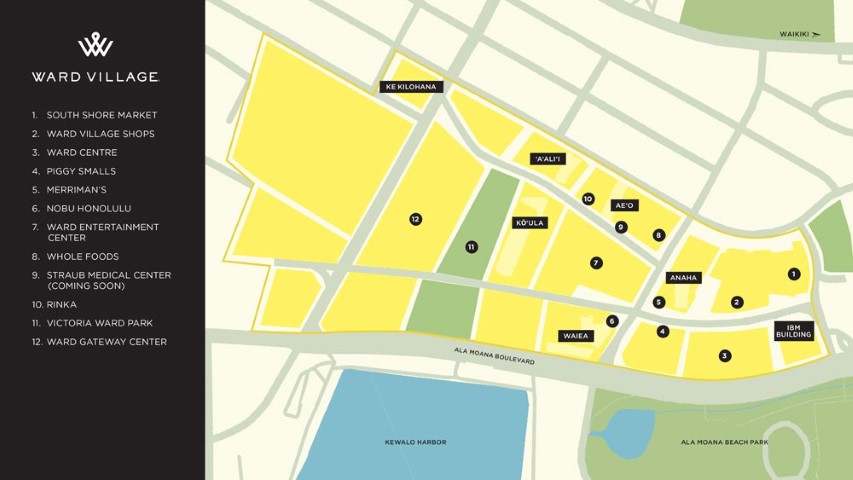 If you'd prefer to play in the outdoors, rather than shop, Ala Moana Beach Park will quickly become your favorite recreational spot.
This 120-acre coastal park is the perfect spot for water sports like surfing and paddleboarding. If you prefer to stay land side, there are plenty of palm lined tennis courts, BBQ stations, grass, sun, and white sands to enjoy in this unmatched location.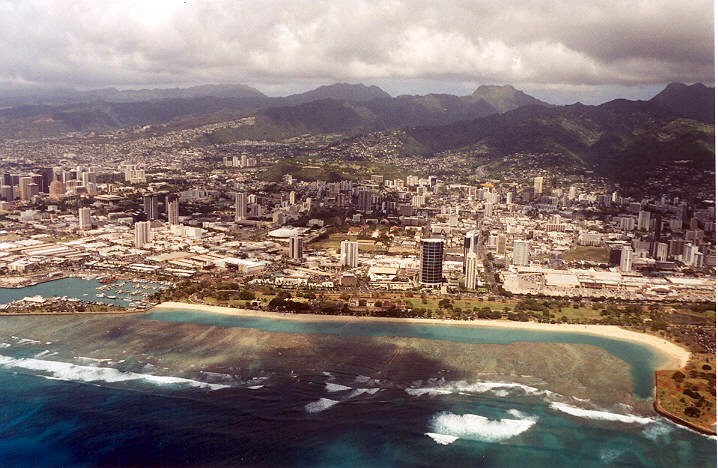 As a community, Ward Village was awarded LEED certification for above average standards in sustainable neighborhood design. The village has worked hard to promote bicycle friendliness, easy access to public transit, recycled material use, efficiency in energy and water design, and pedestrian safety and ease.
Anaha Building Amenities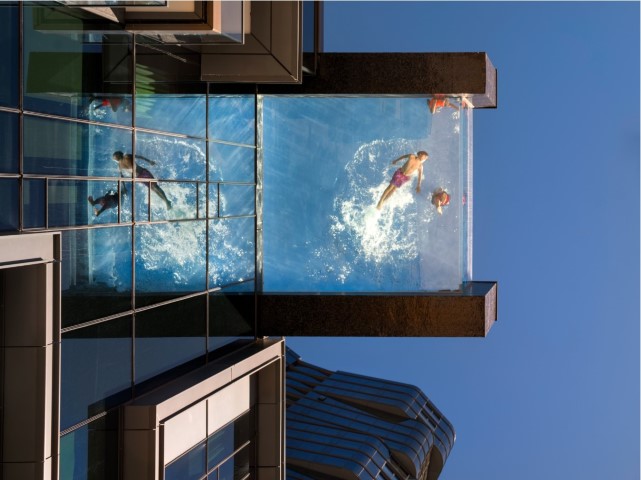 Picture yourself swimming in a glass bottomed pool with serene ocean views while lush island palms and fragrant flora surround your senses. At Anaha, great care has been taken to bring the very best of the tropics right to your doorstep.
And with features like these, Anaha's amenities are almost as impressive as the building itself:
The 7th floor recreation court contains a tennis court, beach volley court, putting green, and golf simulator for all of your practicing needs.
A sizable dog park allows your fur babies to get plenty of exercise.
A state of the art fitness center, complete with cardio machines, weights, elegant locker rooms, a yoga studio, and ocean views ensures that you love every minute of your workout routine.
The condos spa features 2 massage rooms, a steam room, and a sauna so you can pamper yourself anytime.
Let's talk again about that pool! This gorgeous glass bottomed lap pool extends 15 feet past the buildings edge, naturally connecting you with the ocean just beyond.
A large hot tub with panoramic views is just the place for soaking after a long day at the shops.
Studio and 1 bedroom guest suites are available in the building for visiting friends and family.
Barbecue stations complete with outdoor dining areas and cabanas make hosting outdoor dinners a breeze.
The kids room and play areas are perfect for entertaining little ones indoors or out.
A modern, large screened theatre makes viewing your favorite flick a memorable experience.
The community room and catering kitchen can be booked for all of your big parties and events.
And while you're booking the community room, be sure to grab a free cup of the coffee available to residents every morning.
Concierge services and 24/7 resident specialists are always available to help you with anything you need.
Guests can park onsite, or take advantage of the building's valet parking.
And don't forget to check out the Howard Hughes bar and billiards room on site - a perfect way to play and relax on the weekends.
Pricing of Anaha Condos for Sale
Ultra luxury comes with a price tag, but with these unique extras, it's easy to see why.
Anaha's one bedroom condos start in the $900,000 range, while the 6,000+ square foot penthouses can reach north of $22,000,000.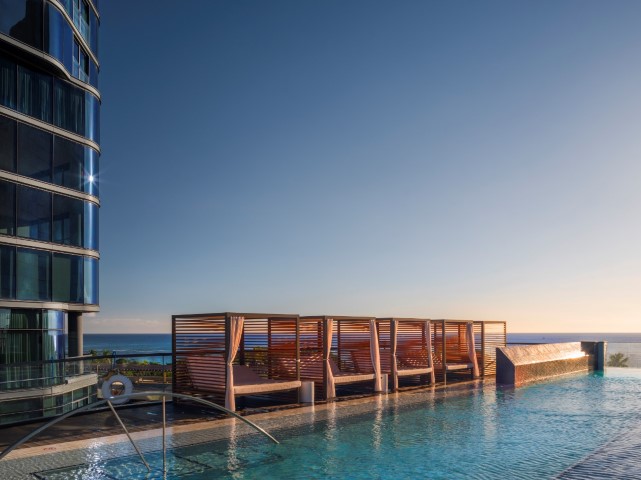 Best Features
If you want high end island luxury, it's safe to say that Anaha does it right. My favorite features of Anaha are the unparalleled cantilevered swimming pool, the rooftop golf simulator and putting green, the gorgeous, green building design and the best neighborhood in Oahu - Ward Village.
I would love to be your Anaha condo resource! Please feel free to contact me at 808-203-7424 or via email at [email protected].
​*Photos courtesy of Ward Village Properties, LLC.
About John Gephart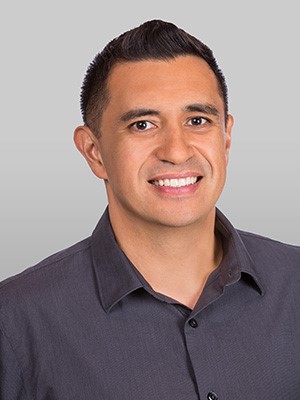 John Gephart specializes in Oahu real estate and new development condos in Kakaako and Ward Village. Call him at 808.203.7424 or email to [email protected] to set up a private Anaha showing.
You can read more about John by clicking here.