Keauhou Place Condos
Hawaii — a tropical getaway complete with pristine beaches, incredible food, luaus every night, and… urban living? Bet you didn't expect that last one!
You'd be amazed to see such a bustling city built on our beautiful little island. And, in the heart of it all, The Keauhou Place development project at 555 South Street in Kakaako offers a wide array of condo properties, nestled right on the coast of Honolulu.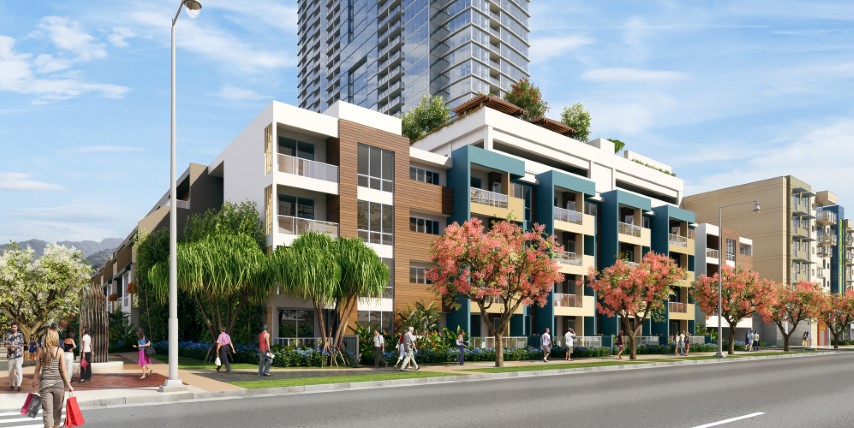 Keauhou Place: The Condo of the Future
These condos are based on incredibly smart designs that combine energy savings and efficiency with awe-inspiring beauty and scenic views.
Check out how spacious floor plans, combined with high ceilings and strategic natural light, make for a wonderful experience at any time of the day.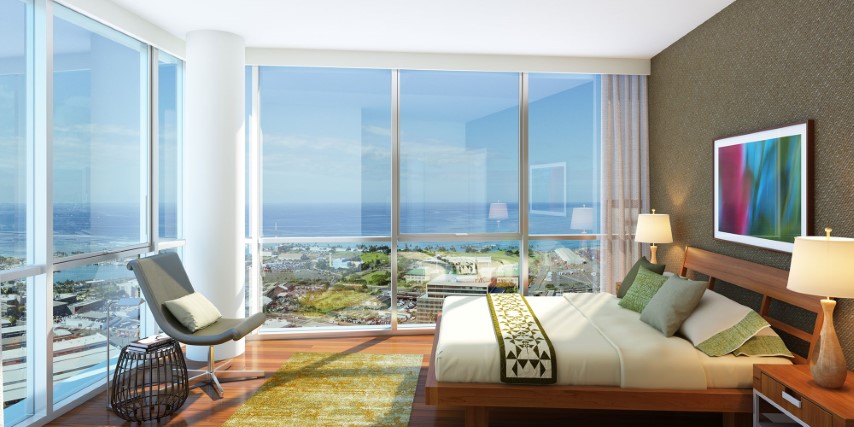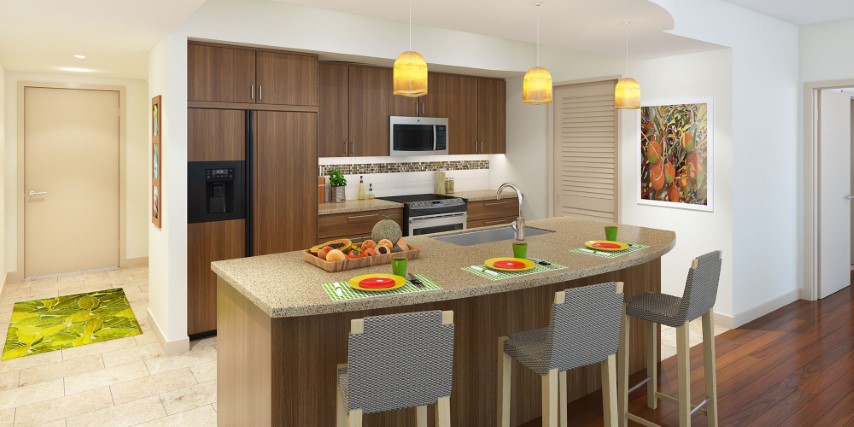 Low-energy windows and energy-saving appliances add to the ease of living in these units. Discover fine European cabinetry and other touches that give these units a distinct feel of luxury.
Tour these open rooms, and you'll see how cutting-edge air conditioning and home systems combine with finishing touches like Kohler fixtures, quartz composite countertops, and high-quality porcelain tile floors. The use of specific styles, textures, and elements gives these condominium units their contemporary ethos.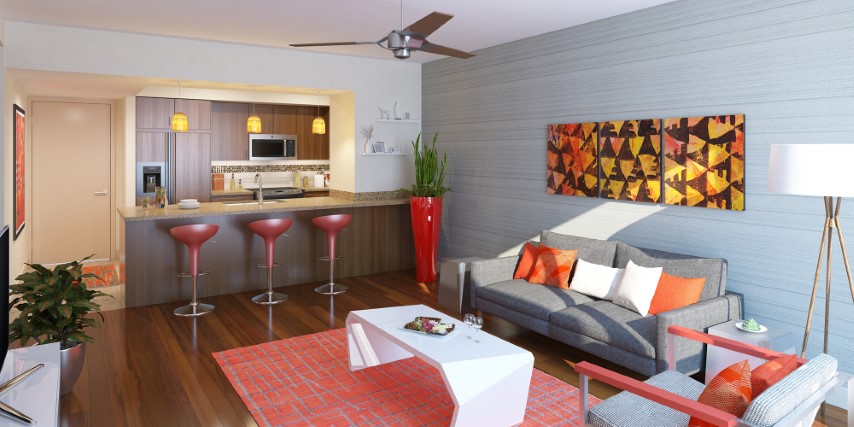 Contemporary Urban Living
It's all part of a comprehensive effort to create a community that residents want.
When you live in Keauhou Place, you might start becoming more critical of other architecture and community planning efforts elsewhere in the country. This condominium project is an incredible execution of modern engineering, design, and resident-first planning.
The building shares ideas with some of the best-designed living spaces in the world.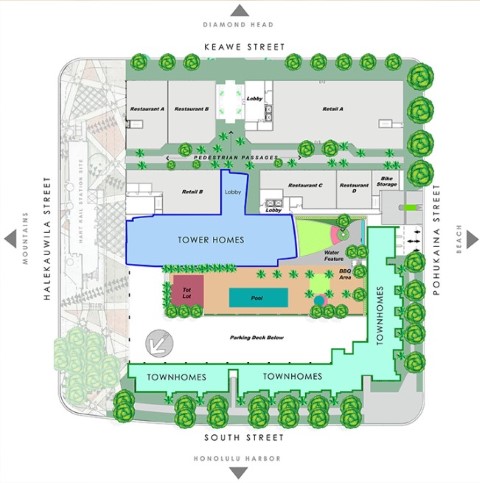 At Keauhou Place, there's a real synergy between the beauty and serenity of Hawaii. In essence, it offers the best of both worlds—the breathtaking scenery of one of the world's most awe-inspiring locations and the opportunities and amenities of a modern, urban community.
See it for yourself and dig into the details to find out more about what it's like to live in this lively condo neighborhood.
Towering over 400-feet tall, Keauhou Place provides an incredible view of the city and a stunning view of the harbor. This building is urban-living at its finest—integrated into one of the most beautiful and tourist-friendly destinations in the world.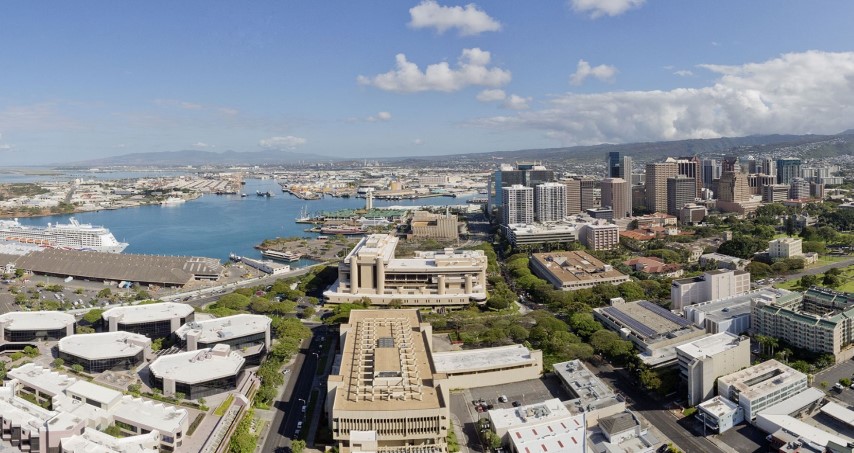 Instead of just packing-in residential units, the community of Kaka'ako has 2,854 square feet of ground-floor commercial space, 13,000 square feet of open space, and 31,400 total square feet of recreation space for a mixed-use "village" setup—giving residents and visitors plenty of breathing room.
Condo Amenities
Get fit in a modern gym packed with high-quality gear and equipment.
You haven't lived until you've experienced the sights, sounds, tastes, and smells of a barbecue on a veranda.
Swim in comfort under the Hawaiian sky.
The sky is the limit.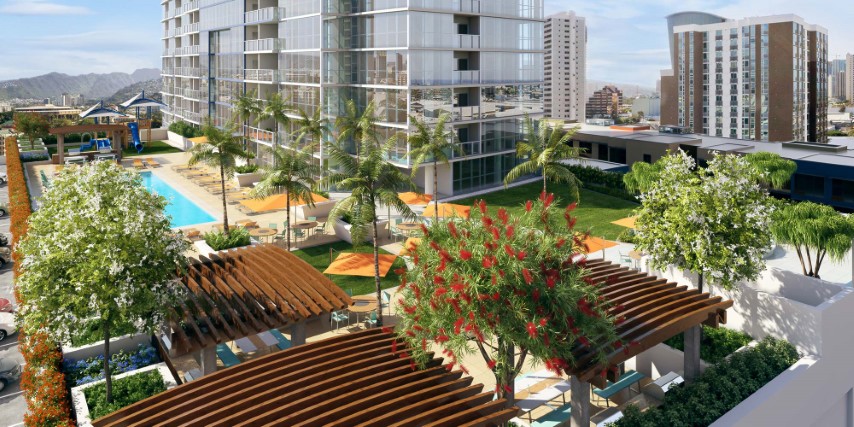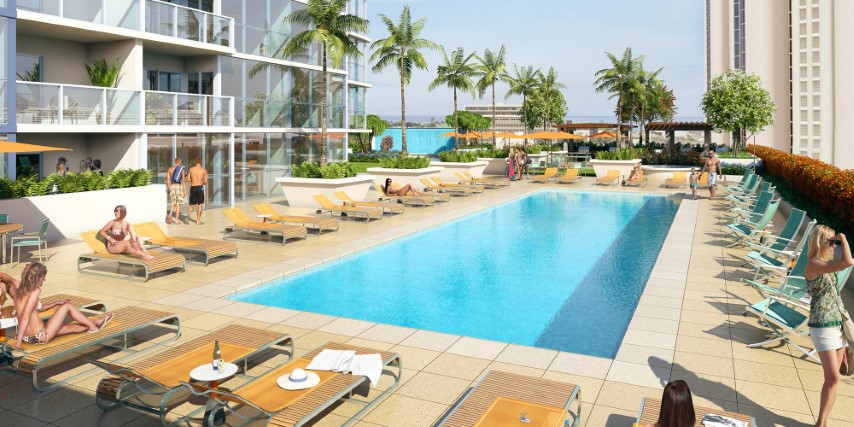 Keauhou Place has all of this and more, including tot lots and recreational areas for the whole family. Garden space, surfboard, and bike storage are some of the other amenities included that help our urban households enjoy quality exercise, time in the outdoors, and access to a city full of opportunity.
The developers of Keauhou Place had comfort in mind—and these additional features and accommodations help to make the luxury units a top-tier experience among the neighborhood.
Ample parking allows for day trips and travel without stress. Many big and small aspects go into this condominium project that makes it the ultimate Oahu experience.
Kakaʻako: A Happening Place
In the Kakaʻako community, situated on the beautiful Oahu coast, a vibrant bar and restaurant scene mixes into the tropical, coastal culture.
The smooth, paved paths of Kakaʻako Waterfront Park make for a great walk or bike ride along the coastline.
Take a 7-minute drive from the park and you can take advantage of Honolulu's Rail Transit system. You'll quickly be able to experience other popular attractions on the island such as:
The Japanese Culture Center of Honolulu
Honolulu Zoo
Honolulu Museum of Art
Wa'ahila Ridge State Recreation Area
Visitors can spend a whole weekend enjoying nearby beach parks and closing the day off watching a gorgeous sunset.
In Kakaʻako "village", Keauhou Place is one of the most attractive and popular living spaces around. The tower is part of what architects and other professionals describe as a "modern village" design—and it's very deliberate. Kamehameha Schools, the owner of the real estate, wants to create "Our Kakaʻako," integrating a commercial and residential space in a smart and empowering way.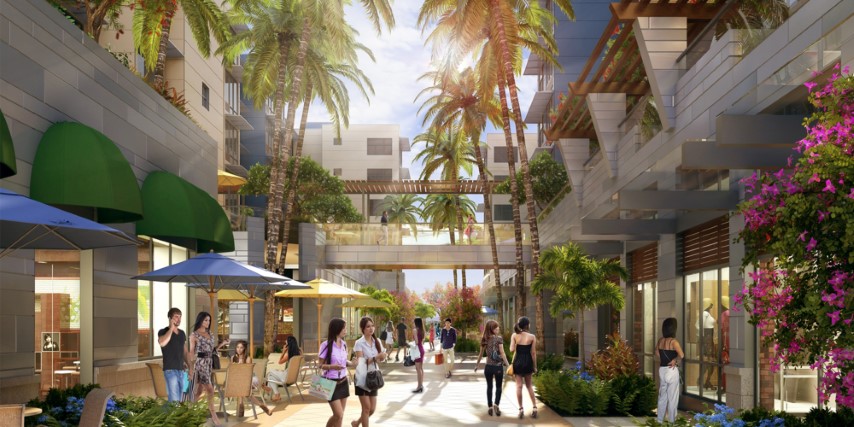 In the immediate vicinity, you'll find spaces for picnics, paddleboarding, a farmers market, and more. You'll run into an ample amount of nearby grocers and retailers, giving you the "I'm at home" feeling that most people long for.
Connected to Keauhou Lane, which is anchored by the Down to Earth grocery store, you will be able to walk out your lobby and enjoy the handful of shops and restaurants that are in the lane. Just a block away you will find Salt at Kakaako, which is a larger shopping area and dining complex, which houses the famous Moku Kitchen and Highway Inn, Morning Brew, Village Bottle Shop and many other unique and amazing local businesses.
Honolulu is known as "The Gathering Place" for a good reason… it hosts the lion's share of the state's population. And, this city effortlessly blends the urban lifestyle that you know and love, with the natural beauty that makes Hawaii one of the world's most sought-out destinations.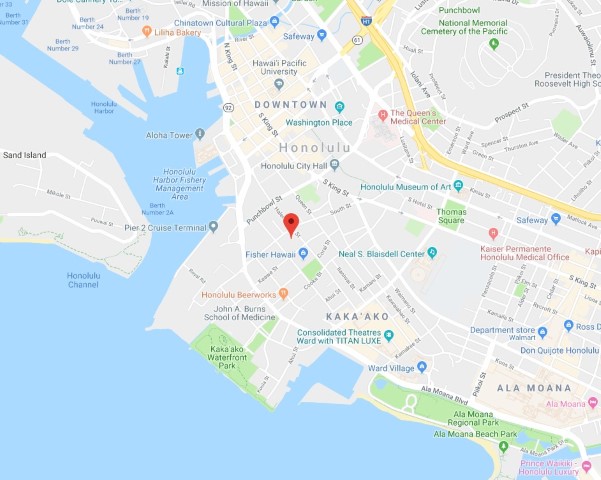 Say goodbye to the days of visiting a tropical location only to experience poor cell service, slow internet, and scarce job opportunities. You'll be exposed to a bright and thriving urban economy that doesn't lack any modern amenities.
The Keauhou Place condominium project has succeeded in urbanizing a beautiful location without corrupting its natural scenic beauty, radiant culture, or YOUR lifestyle.
At Urban Oahu, we are incredibly passionate about helping people find their dream properties on this beautiful island. Keauhou Place, a project created by Stanford Carr and opened in late 2017, is a property that offers excellent amenities, a perfect location, and a high standard of life.
John's personal notes on Keauhou Place:
Keauhou Place is another great mid-luxury condo in Kakaako that appeals to many different types of residents who are looking forward to the completion of the rail and can't wait to take advantage of this great transit oriented urban development in Honolulu.
Being on the development sales team and representing Stanford Carr Development, I had a wonderful experience taking part in selling over 30 units and know all the details and intricacies of the building.
Keauhou Place is located on Block A of Kamehameha School's "Our Kakaako" Master Plan, which in its entirety, is made up of nine blocks on the western side of the Kakaako neighborhood. During the sales process there were 4 public releases: Investor, 2 Owner Occupant and a Reserved Housing release. By the time the building was ready to close on the units, all 423 units were completely sold.
Set on the same block as the future Civic Center Rail Station, Keauhou Place is the ONLY Kakaako condominium (or Honolulu condominium for that matter) that will be directly accessible and adjacent to Honolulu's HART rail transit system. From Keauhou Place you will be able to arrive at the Honolulu International airport in 13 minutes and to the "world famous" Ala Moana Shopping Center in 3 minutes. In addition, Keauhou Place will have all the amenities that condominium lovers absolutely enjoy having: a 65' long swimming pool, multiple BBQ areas, a Tot Lot playground for kids, a community room with a full kitchen for get-togethers, and a full gym. All of this will be located 75 feet above the ground on the 8th floor recreation deck.
This 423-unit development project has something for everyone. Thirty-five (35) 2 and 3-bedroom townhome residences wrap around the parking garage along South St. and Pohukaina St. in a 4-story complex. The 43-floor tower contains 388 units 1-bedroom units, 2-bedrooms and 3-bedroom units, with all but the top 5 floors of penthouse units having lanais.
*Images are courtesy of Stanford Carr Development
About John Gephart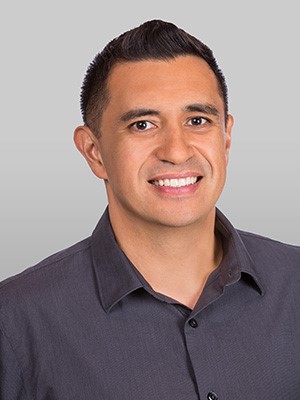 John Gephart specializes in Oahu real estate and will be happy to set up a private showing at Keauhou Place. For more details on this or other condo projects in Honolulu, please contact him at 808.203.7424 or email to [email protected].
You can read more about John by clicking here.